Cobrapost Explosive: DHFL shares rolls down 10% minutes after alleged Cobrapost expose of Rs 31,000 crore corruption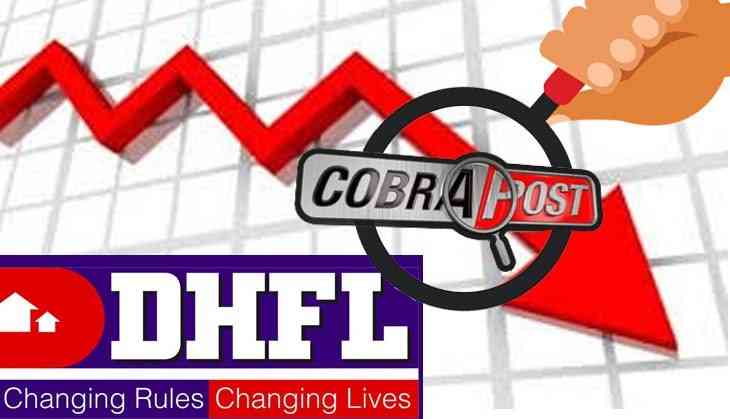 Cobrapost is back with an explosive sting operation to rattle the nation with and political parties by disclosing major corruption and scams. The Cobrapost investigation claims that primary promoters of DHFL have caught to have siphoned off more than Rs 31,00 crores public money to create private wealth.
Minutes after the exposure by the Cobrapost, the Shares of Dewan Housing Finance Corporation Ltd (DHFL) plunged 10 per cent giving a big jolt to the market.
According to a report by CNBCTv18, around 32 Indian and foreign banks lent Rs 97,000 crore to DHFL Group companies with many borrower companies having the same addresses, directors and auditors.
Reportedly, DHFL shares hit a 52-week low of Rs 161.30 in intra-day trade, after opening at Rs 182.85. Shares quoted at Rs 169.45, down by 8.36 per cent on the NSE at 3.23 pm.
In the press conference on Tuesday, Cobrapost claimed the alleged corruption over Rs 31,000 crore of public money. In the press conference, the panel included Aniruddha Bahal, Yashwant Sinha, Prashant Bhushan, Neil Terrence, Paranjoy Guha Thakurta, and Prem Shankar Jha.
"Banks have disbursed Rs 37,000 crore to Dewans. The State Bank of India highest exposure at Rs 11,500 crore sanctioned loan, next: Bank of Baroda at Rs 5,000 crore sanctioned loan," the alleged expose said.
According to the story published on the official Coprapost site, it alleges that the scam was pulled off through grants of loans and advances to shell companies. Later, the same money was then re-routed via these dubious companies and parked outside India so as to acquire assets.
The organisation said: "Cobrapost has unearthed the scam by closely analyzing documents available with public authorities and information available in the public domain."
Also read: Good News! Invest only Rs 1,300 monthly, get 63 lakh rupees on maturity; here's how?