Budget 2017-18: Can Modi Care work? Or will it just help private players?
Catch Team
| Updated on: 1 February 2018, 21:43 IST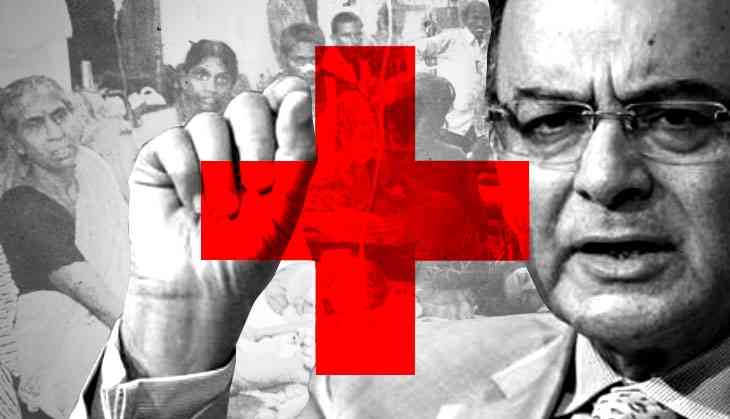 Prime Minister Narendra Modi-led NDA government has embarked upon yet another ambitious plan--to cover 40 percent of the country's population with a government funded health insurance scheme. Finance Minister Arun Jaitley has already christened it 'Modi Care'. Yet, in absence of any allocation of funds, and details of its implementation framework, experts wonder if it is just another gimmick. Or if it is a plan to create an inflationary spiral which would eventually work for the private players in the healthcare market.
"They have not clearly laid out what they want to do with the scheme. So let us assume it is an extension of Rashtriya Swasthya Bima Yojana (RSBY)," Indranil, who teaches at OP Jindal University and has worked on the RSBY tried to explain the complexities behind the announcement. He says if the government were to implement the scheme it would entail an expenditure more than the current health budget of the Centre and all the states put together.
The newly announced National Health Protection Scheme, will cover ten crore poor and vulnerable families with an insurance cover of Rs 5 lakh per family, per year.
The health economist says the government is paying a premium of Rs 750 per family under the RSBY, which guarantees a cover of Rs 30,000 per family per year. If the cover is increased to Rs 5 lakh per family, per year, the premium would also go up, Indranil claims. The market rate for such an insurance scheme, Indranil says is about Rs 23,000 per family per year. Even if the government were to get a 50 percent discount, it would still mean an expenditure of Rs 2400 per person. "The whole cost of premium alone would come to around Rs 1.2 lakh crore. And if you add another 20 percent to it as the cost of managing the whole operation it exceeds the current spending by the Centre and all the states on health which is Rs 1.3 lakh crore," he says. Former Health Secretary Sujatha Rao, however, pegs the expenditure at Rs 10,000 crore.
Butthere is no indication from the government's allocation on healthcare from this year's Budget if it plans to foot such a massive bill. And the government is yet to implement its earlier announcement where the insurance cover was raised to Rs 1 lakh per year per family.
In the 2018 Budget The allocation of funds to the health ministry has been increased by about 11.5 percent. But it is not adequate or commensurate with the National Health Policy objectives which aims to increase the spending to 2.5 percent of the GDP by 2025 from the current 1.1 percent figure. "It is not sufficient," explains Shankar Prinja, Associate Professor of Health Economics at PGIMER, Chandigarh.
Prinja says the announcement is a giant leap. Earlier, the RSBY only covered secondary care. But the new scheme aims to even cover tertiary care. "But the real test will be in its implementation and rollout," Prinja says. He explains that multiple studies on RSBY showed that it did not decrease the out of pocket expenditure of its intended beneficiaries. He also narrated how private hospitals would inflate costs.
Former Health Secretary Sujatha Rao explained the quality issues with the RSBY. "It was not a good experiment. At times, hospitals were found to be working out of Gaushalas," she says.
"This new scheme could work only if there are enough safeguards," Prinja says.
"There is a huge supply gap especially in North India which would make things difficult," Sujatha Rao says explaining how there are just not enough facilities to take care of the demand if the scheme is implemented. She feels if the government seriously takes it up, it could shore up the facilities in an unprecedented manner.
But most empanelled facilities on the list are likely to be privately owned as is the case with RSBY. "This could create an inflationary spiral unless the implementation framework is cognisant of that danger," Prinja says. Indranil cites the example of the United States where healthcare costs skyrocketed once such a scheme was announced. "It became unsustainable," he says.
And even if the programme is implemented, in line with Finance Minister Arun Jaitley's announcement, would it be economically prudent?
"No!" says Indranil. "The scheme will cover secondary and tertiary care, meaning just 20 percent of the health needs. You cannot double your expenditure to cater to just 20 percent of it," he says.