Air India's turnaround should put to rest demands for its privatisation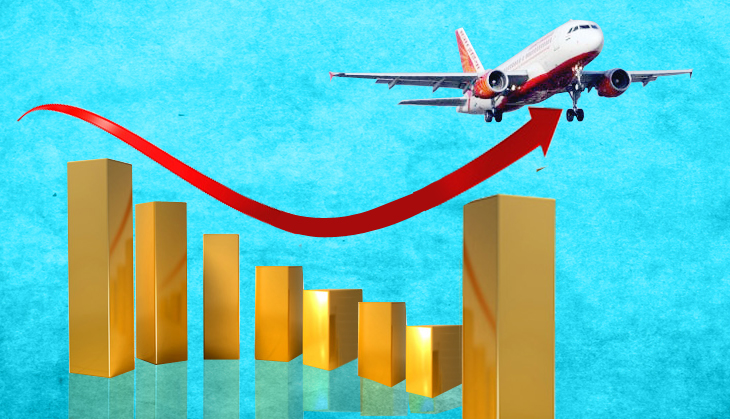 Air India is set to go into black two years ahead of expectations. The national carrier will generate a profit after tax in 2018-19, according to media reports, against a deadline of 2021-22.
The company recorded an operational profit of Rs 8 crore in 2015-16 after incurring losses for nine years in a row.
Read: Auto industry growth a sign of economic rebound. But is it a false dawn?
The turnaround story of Air India brings us to an old question - should the national carrier be privatised?
This issue is almost a decade old. Students in many Indian as well as foreign universities have written papers on the subject and have charted out plans on making India's Maharaja a profitable entity - albeit after placing it in private hands. An equal amount of energy has been spent by professional experts who have argued in favour of the government selling its stake in Air India.
But now that the company is set to make profits, what message does it send to those who champion the privatisation of government-owned companies?
On an apple to apple comparison, Air India is as bad or good as any other airline in the country. And if run professionally, without any political pressure, it can give any privately-managed airline a run for its money.
Some past mistakes
According to a report by the Comptroller and Auditor General of India, the 2011 decision of Air India and Indian Airlines to buy 111 planes at an estimated cost of about Rs 44,000 crore was a disastrous one.
No doubt, this was a bad business decision because by 2008 the world economy entered into recession and aviation fuel prices went through the roof making it impossible for most airlines in the country to make profits.
Fuel cost accounts for 60% of the operational cost for an airline. And in that scenario, it was not just Air India that incurred loses, but also private airlines like Jet Airways, Kingfisher Airlines and Spice Jet.
Due to these losses, while Vijay Mallya's Kingfisher Airlines was grounded, Jet Airways and Spice Jet continued their operations like Air India.
While Jet and Spice Jet have both made profits over the past one year, the latest turnaround in the Air India's fortunes indicates that its losses were part of an industry-wide trend and due to one bad business decision of buying 111 planes in the anticipation of increase in passenger count in the coming years.
Also read- Pull up your socks Maharaja: Air India is being a laggard
Apart from this, there was one more reason why Air India was in the red in the period when most airlines, except for Indigo - which flew only on domestic routes - were making losses.
CAG in its report said Air India repeatedly stated that the government's decision to award profitable routes to private Indian carriers and international carriers vide bilateral agreements also adversely impacted its commercial viability.
Not just this, Air India also has to provide flights in loss making routes.
Air India is the most common flight available to loss making routes in the North-East, Jammu and Kashmir, Port Blair and Lakshadweep.
So we can say that a part Air India's operational losses of Air India are because of these obligations. On the other hand private airlines in India have incurred losses despite flying on only busy routes.
Now the question is, if we privatise Air India, as per the whims and fancies of the champions of privatisation, will the government be able to provide air connectivity to the people living in those lose making routes?
Lessons learnt from the past
The Air India management has been trying to achieve the modern operational parameters in the aviation industry.
For example, in 2007 Air India had more than 30,000 employees - 256 per plane. This was twice the global standard. Air India spent about one-fifth of its revenue on employee benefits, while other airlines such as Jet Airways spent about one-tenth. But over these years, the Air India management has tried to improve its efficiency per employee and the company's employee-to-aircraft ratio in 2015 stood at 120 per aircraft. The global average is one to 100. Clearly, the global benchmark is not very difficult to achieve in the coming years.
Other strategies deployed to increase profitability
The company has improved its load factor (passenger occupancy). Since January 2015 the load factor has been reported at above 80%. for most of the months. Even the on-time performance was reported at 65% in January 2016 compared to 52.1% a year ago.
Challenges ahead
So far, the Indian government has pumped in more than Rs 30,000 crore into stabilising the airline. As of December 2015, its debt stood at over Rs 50,000 crore.
But the 85-year-old Air India has been steadily losing market share to rivals such as IndiGo and Jet Airways. As of January 2016, Air India's share in the pie stood at 16% compared to over 35% at the time of the merger.
Will Air India never incur losses in future?
It is a difficult question, as the airlines business in itself is not profitable in most parts of the world. In India itself, a dozen companies have either shut down or changed hands since the 1990s.
But to not have a single government-owned company in the aviation sector would mean leaving the sector completely prone to cartelisation by private sector companies.
Read more: Why we love to hate Vijay Mallya and don't care about other wilful defaulters
The fact that Air India can be profitable and its losses all through these years were partly due to its decision to buy more aircraft and partly because of a general slowdown in the industry, gives us one lesson that the Maharaja can cease to be a burden on the exchequer.
There are enough number of government companies in the country that have been competing with the private sector and are performing better than them with responsibility. Air India can be just one like them. Still if someone thinks that Air India should be privatised to make profits, that person should ask the private airlines to fly on all the loss making routes that Air India flies on.
Edited by Aditya Menon
More in Catch:
Drought: Centre showers funds on Swachh Bharat, starves drinking water
Shashi Kapoor's first-ever biography is out, and now we love him even more
Why is J&K police still holding the Handwara girl in custody?
Nepal: India's emasculated responses have emboldened KP Oli