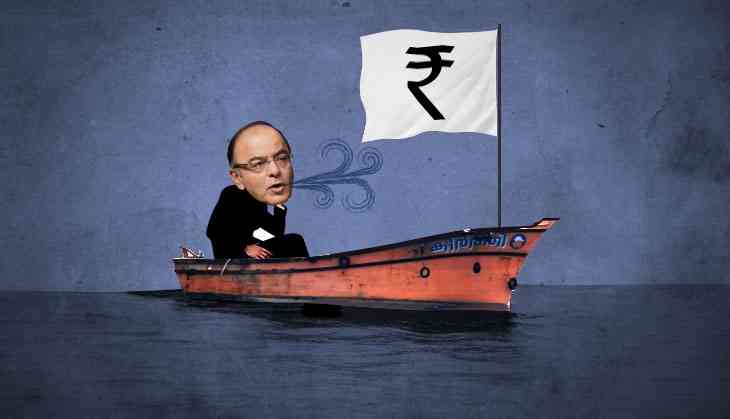 (Arya Sharma / Catch Team)
In 2014, when Arun Jaitley presented his first budget as the finance minister of the country, he laid out a vision of cleaning up the Indian economy from the ills of tax evasion, providing opportunities to the aspirational youth and giving respite to people from high inflation, providing employment and creating infrastructure.
On 1 February, 2018, as he presented the last budget of his five-year term, he looked more concerned about the state of farm economy, that has grown at less than 2% in the past four years. He faces the challenge to double the farm incomes by 2022 as promised in the last budget.
A large part of Jaitley's speech was dedicated to the poor and farmers and he promised a minimum support price (MSP) for all Kharif as well as Rabi crops that would be 1.5 times the input cost to farmers. For poor of the country, he announced a Rs 5 lakh health insurance for 10 crore families in the country covering 40% of countries population.
Though he did not lay out the expenditure his government would incur on such a massive scheme. According to experts it may cost anywhere between Rs 25,000 crore to Rs 50,000 crore. The calculations are based on a premium of Rs 5000 per annum.
The Mahatma Gandhi Rural Employment Guarantee Scheme has been allocated Rs 55,000 as against last year's allocation of Rs 48,000 crore.
Tax collections, the same old story
The assault of demonetisation launched in November 2016, pulled down India's growth by almost two percentage points in 2017-18. The government believed that it was a measure that would force tax evaders to pay taxes. Two years after the controversial decision to destroy 86% of the currency in circulation, government data implies that it has failed to change the behaviour of tax payers.
In Jaitley's own words, "the presumptive income scheme for small traders and entrepreneurs with annual turnover of less than Rs 2 crore and a similar scheme for professionals with annual turnover of less than Rs 50 lakh" did not yield encouraging tax collections.
"From individuals, HUF and firms the government generated a meagre average tax payment of Rs 7,000, only. The tax compliance behaviour of professionals was no better; for 2017-18 the average tax paid by them was only Rs 35,000."
On the other hand, the 1.89 crore salaried class people, who always pay their taxes on time, thanks to TDS, contributed an "average of Rs 76,306 per individual."
Now it can finally be said demonetisation was a missile that misfired.
On the front of employment generation, Jaitley asserted that 70 lakh new employments in the formal sector would be created this year.
His claim on employment generation relies on his assumption of the success of his schemes announced in previous budgets that include among others "contribution of 8.33% of Employee Provident Fund (EPF) for new employees by the Government for three years.
And contribution of 12% to EPF for new employees for three years by the government in sectors employing large number of people like textile, leather and footwear."
There was nothing for the salaried middle-class in terms of tax breaks. Exemption for seniors citizens on interest income on deposits with banks and post offices have been increased from Rs 10,000 to Rs 50,000.
For the corporate sector, only small companies with with turnover of up to Rs 250 crore would got a tax rebate of 5%. Now they will pay tax at 25%. Those with revenues of more than Rs 250 crore ( only 1% in country) will have to pay tax of 30%.
For those who play in stock markets there was nothing to cheer, either. Long-term capital gains (profits made on stock after keeping them in your portfolio for more than one year) exceeding Rs 1 lakh would now be taxed at 10% without allowing the benefit of any indexation.
In his final budget, Jaitley had no option to do something radical. His government has already breached the fiscal deficit target of by 30 basis points to 3.5% for 2017-18. The only talking point about the budget was health insurance cover. Only the coming months will tell if that scheme influences the voters in the next Loksabha elections.
Edited by Joyjeet Das