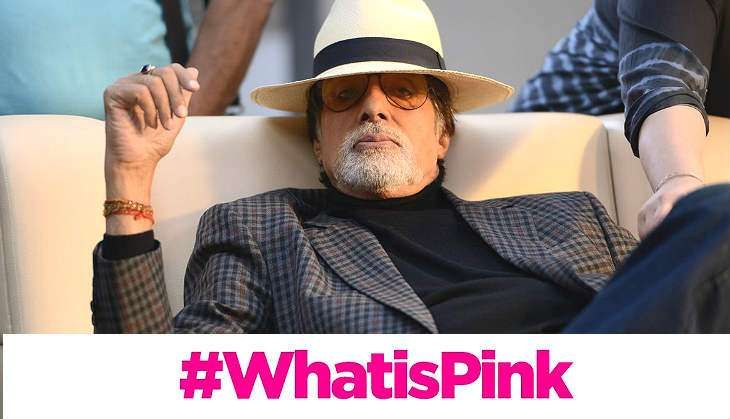 The terrific actor-director jodi -- Amitabh Bachchan and Shoojit Sircar, is gearing up for the release of their next film after Piku -- Pink.
The film's enigmatic title has generated a lot of buzz already leading to #WhatIsPink trend on Twitter. With no details about the film's storyline or its release date yet, the curiosity around Pink has only been building.
The director and the actor involved in a Twitter conversation the other day discussing what could be the possible meaning of Pink and why have they taken it as the title of the film. Check it out:
@SrBachchan Sir,last year PIKU with you was truly memorable..and now, here is my first #PINK tweet to you :) pic.twitter.com/RFODT8dGFb

— Shoojit Sircar (@ShoojitSircar) August 5, 2016
an amazing journey in PIKU .. and looking forward to another one in PINK ... https://t.co/HRUz42thRj

— Amitabh Bachchan (@SrBachchan) August 5, 2016
T 2339 - #WhatisPink ...? So what do you think it is ..? pic.twitter.com/6gnh4yNMr8

— Amitabh Bachchan (@SrBachchan) August 5, 2016
Does the title refer to women empowerment since the colour signifies the creation of an environment where women are considered equal to men?
Is it just a thriller where the colour pink has to do with a clue?
Here are a few guesses from the Twitterati:
#WhatisPink
For men it's just another colour. For women it's a religion.

That my dear friend is Pink

— Khatta Dahi (@khatta_dahi) August 5, 2016
@ShoojitSircar @SrBachchan #PINK is being the best lawyer who always fight for justice #WhatIsPink

— Debaleena De (@debaleena_EF) August 5, 2016
The struggle of feeling girlie when all you like is black and skulls is real.#WhatIsPink?

— Tabatha Hart (@TabiHereWeGo) May 2, 2014
Also featuring Tapsee Pannu, Kirti Kulhari, Andrea Tariang, and Angad Bedi in pivotal roles, Pink is releasing soon.
The release date of the film is not out yet but Pink is already keeping us on our toes. Tell us what do you think the title stands for in the comments below.