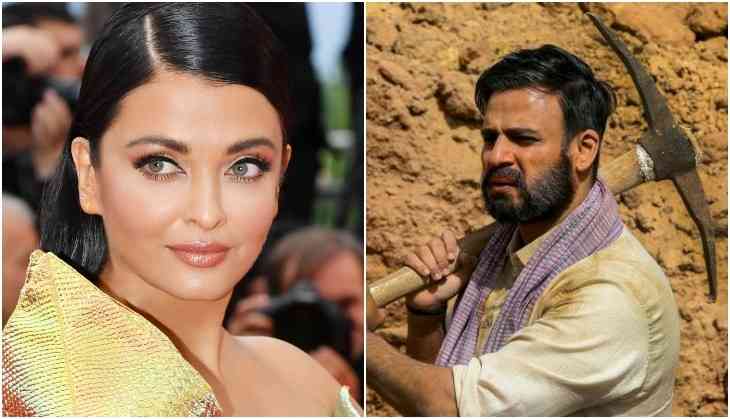 It looks like that Bollywood actor Vivek Oberoi has really taken a big controversy in his name and this time totally intentionally. Recently, Vivek Oberoi shared a meme on his social media related to exit-polls but the meme was actually also targetting Aishwarya Rai Bachchan for her relationships in her life.
This meme sharing has really was one of the worst things have Vivek Oberoi done in his career, currently, he is promoting his next film PM Narendra Modi, a biopic on India's current PM. The film is going to release next week, Vivek Oberoi who is keen to get publicity for his film actually has landed himself into a controversy after this meme.
Vivek aiming to Exit Polls of General Elections 2019, shared a meme on social media Twitter, where he targets Aishwarya Rai. The meme shows Aishwarya with Salman as an Opinion poll, Aishwarya with him as Exit Polls, and Aishwarya with Abhishek as Final Results.
Haha! 👍 creative! No politics here....just life 🙏😃

Credits : @pavansingh1985 pic.twitter.com/1rPbbXZU8T

— Vivek Anand Oberoi (@vivekoberoi) May 20, 2019
This meme really didn't work in favour of Vivek Oberoi and neitezns started calling Vivek Oberoi, a 'man obsessed with himself'. Some even called him a hypocrite who doesn't know how to respect a woman. Well, definitely, people will ask this kind of questions to Vivek because there was no reason to share this meme, especially when it had created a lot of controversies in his life.
Disgusting and classless. https://t.co/GUB7K6dAY8

— Sonam K Ahuja (@sonamakapoor) May 20, 2019
"Ab koi rok nahi sakta" - Ye poster pe hi achchaa lagta hai!!

If #VivekOberoi is not removing this tweet with a sorry note, I m gonna unfollow @vivekoberoi and also, not gonna review his upcoming film 🙏🏻

My PM knows how to respect a Woman 🙏🏻 can't see you playing his role 🇮🇳 https://t.co/uA5Wo9dNbO

— Aditi Raval (@aditiraval) May 20, 2019
Some People never grow up in life ...This guy never knew how to respect a woman, and don't think he will ever learn to... Once a loser , always a loser @vivekoberoi #VivekOberoi pic.twitter.com/n6QVQsZgDU

— Kamlesh Sutar (@kamleshsutar) May 20, 2019
The curious case of #VivekOberoi
Since their break-up, Salman has never uttered word about Aishwarya Rai.
Vivek Oberoi, on the other hand, called her a plastic doll,
repeatedly blamed her for manipulating him & destroying his career.
And now this crass meme! Move on, Vivek. pic.twitter.com/S8CtewOmDL

— irfan (@simplyirfan) May 20, 2019
THIS MAN @vivekoberoi is so obsessed with himself n for limelight n attention he can do anything, Mard-o ka RAKHI SAWANT #VivekOberoi https://t.co/p772myUPND

— sagarsurana (@isagarsurana) May 20, 2019
Extremely absurd of you to tweet this. You should have thought 1000 times before dragging a child into it. Shame on You @vivekoberoi #vivekoberoi https://t.co/uv1IaDNXfs

— Ayesha (@ayeshaaqazi) May 20, 2019
Now he will come up with that his Account is been hacked.. shamless act so here i can say why still salman khan has not forgiven him ..#VivekOberoi

— Hemant kharabe (@hemant_kharabe) May 20, 2019
Is this the same guy who acted with #Ajith and glorified him in real life as 'nanba', 'elder brother' and all? Nothing creative in a distasteful joke on someone's life. #VivekOberoi https://t.co/a1K3cq3hk9

— George Vijay Addict (@VijayIsMyLife) May 20, 2019
See the level of #VivekOberoi , #disgusting https://t.co/TEaLdUWS1r

— Oshi (@OshiSharma) May 20, 2019
What a star Aishwarya Rai is. She made a loser like #VivekOberoi trend on Twitter.
Last time @vivekoberoi didn't realise what deep sh** he is getting into. I hope this time he does.

— Vishakha (@vishakhatalreja) May 20, 2019
On the professional front, Vivek Oberoi is currently busy in the promotions of his next film PM Narendra Modi, the biopic on India's current PM. The film is going to release a day after the announcement of General elections 2019 results.