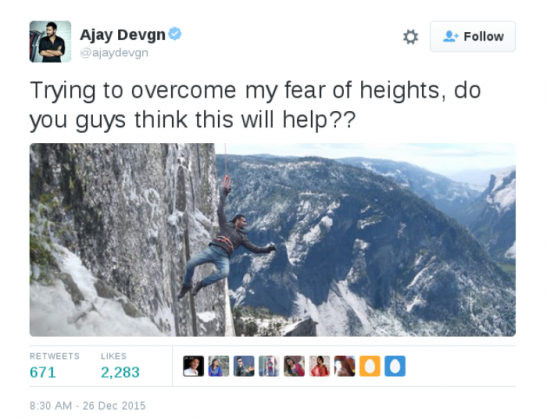 If you've spent enough time looking at entertainment news updates today, you know that the Shivaay first look is up.
And Ajay Devgn himself released it.
Trying to overcome my fear of heights, do you guys think this will help?? pic.twitter.com/gSGJNuD73V

- Ajay Devgn (@ajaydevgn) December 26, 2015
But what we found far more interesting than Devgn's mountain antics were his cute tweets from Shivaay sets.
Check them out here.
Wish you all a Merry Christmas from the sets of Shivaay.

- Ajay Devgn (@ajaydevgn) December 25, 2015
Shivaay's 1st action schedule wraps! Wonderful to have worked with one of the world's most professional action team. pic.twitter.com/NB85xizQep

- Ajay Devgn (@ajaydevgn) December 19, 2015
Cranes and more Cranes! NASA operation, UFO landed, Construction Site...NO! It's our film Shoot! SHIVAAY! pic.twitter.com/cBmEexMzbd

- Ajay Devgn (@ajaydevgn) December 19, 2015