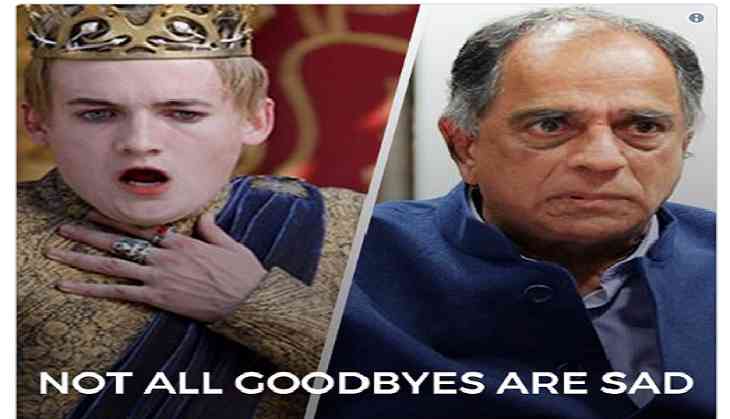 The removal of Pahlaj Nihalani as CBFC (Central Board of Film Certification) chief came as a surprise to the audience as well as the Bollywood industry. After his exit, Bollywood lyricist-screenwriter and ad guru Prasoon Joshi took his place as the new CBFC chairman.
Nihalani's three-year term as the CBFC chief was due to be completed in January 2018. Various filmmakers like Prakash Jha and Madhur Bhandarkar, as well as producer Chandraprakash Dwivedi were rumored to be the consideration for the post of the CBFC chief.
Pahlaj, who is well known for creating controversies through his views on film censorship, had made Twitterati jump leaps and bounds with joy. As soon as the news of his removal came, the Twitter got flooded with responses from the audience and a few of them were quite hilarious.
Check out how the Tweeple reacted on his exit:
Indian Film Industry right now. #PahlajNihalani pic.twitter.com/5suwLRZohz

— Nikhil Wad (@nikhilswad) August 11, 2017
#PahlajNihalani with his final message to all of us.#PahlajNihalaniSacked pic.twitter.com/vx7IajjWr0

— FilterCopy (@filtercopy) August 11, 2017
#PahlajNihalaniSacked
Bollywood right now😂😂 pic.twitter.com/TaSueu4pnq

— Sagnik Misra (@Sangy_Sagnik) August 11, 2017
Pic 1 : How close #PahlajNihalani was to reality
Pic2 : How close #PrasoonJoshi will be to reality#PahlajNihalaniSacked #NihalaniSacked pic.twitter.com/vNqhoGrHX3

— Yo Yo Funny Singh (@moronhumor) August 11, 2017
#PahlajNihalani when asked about his achievements during his tenure as CBFC chief pic.twitter.com/nkokghaQ70

— The Night's Watch (@Doctorr_Saab) August 11, 2017
Meanwhile Anurag Kashyap right now.#PahlajNihalanisacked.😂😂😂 pic.twitter.com/3cZK1kPBrW

— ashutosh mahatma (@ashutoshmahatma) August 11, 2017