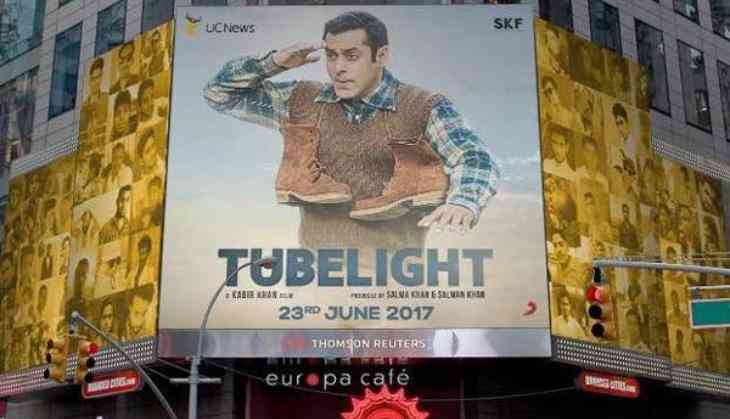 Bollywood star Salman Khan's most awaited film 'Tubelight' directed by Kabir Khan got released on 23 June. The film stars Salman Khan, Sohail Khan, Chinese actor Zhu Zhu and child actor Matin Rey Tangu in lead roles. The film already got positive responses from the audience and now all eyes are set on the box office collection.
The film found itself a decent opening on its first day with an average of about 35-40% across India in the morning, according to reports by Boxofficeindia. Now it is being analysed whether Salman Khan's Tubelight will be able to earn more than Rs 300 crore in the country or not.
There are some points that can make the film a blockbuster hit:
1. The film is releasing on 4,350 screens in India, the simple calculation says that the film will cross more than Rs 100 crore in its first four days itself. The plus point is that 'Tubelight' has the Eid holiday (Monday) too to add to its collection.
2. The curiosity among the viewers is to see the role of Chinese actor Zhu Zhu in Tubelight on the silver screen.
3. Apart from Zhu Zhu, Salman's cute co-star, child actor Matin Rey Tangu is also gaining the attention before the release. As we have seen in Bajrangi Bhaijaan, Salman's on-screen equation with child actor Harshaali Malhotra was appreciated by everyone and the same is expected from his relation with Tangu too.
4. The most important point about the film is that Tubelight was the last film of Om Puri that he could complete before his sudden demise.
5. Last but not the least Salman Khan plays a vulnerable role for the first time in this film and Khan's fans have been waiting with bated breath to watch Tubelight and the box office numbers will bear testimony to that.