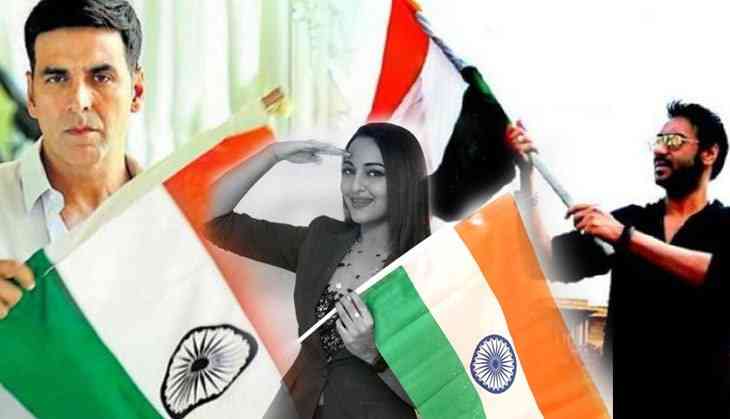 The tragedic attack of Pulwama really saddened the whole nation and it even disappointed us with the death of more than 40 soldiers martyred. The whole nation was looking for revenge from the Indian army. Now finally, the nation has given a strong reply to Pakistan, the Indian Air Force did an air strike at terrorist camps of Jaish-E-Mohammed and made India proud.
The air strike has really been successful and it destroyed all the terrorist camps of Jaish-E-Mohammed. Now Bollywood celebrities also are giving reaction to this brave air strike and actors are tweeting the appreciations. From Bollywood actors like Ajay Devgn, Akshay Kumar, Sonakshi Sinha, and others have tweeted.
Mess with the best, die like the rest. Salute #IndianAirForce.@narendramodi.

— Ajay Devgn (@ajaydevgn) February 26, 2019
Proud of our #IndianAirForce fighters for destroying terror camps. अंदर घुस के मारो ! Quiet no more! #IndiaStrikesBack

— Akshay Kumar (@akshaykumar) February 26, 2019
#IndiaStrikesBack JAI HIND 🇮🇳

— Tusshar (@TusshKapoor) February 26, 2019
#BharatMataKiJai. 🇮🇳

— Anupam Kher (@AnupamPKher) February 26, 2019
A TRULY BEAUTIFUL GOOD MORNING. THANKS @narendramodi SIR AND BRAVEHEARTS OF OUR ARMY . JAI HO . 🇮🇳🇮🇳🇮🇳

— Paresh Rawal (@SirPareshRawal) February 26, 2019
Jai Hind! 🇮🇳

— Sonakshi Sinha (@sonakshisinha) February 26, 2019
अब याचना नहीं
केवल रण होगा
जो संघर्ष था
अब भीषण होगा "
POET RAAMDHARI DINKAR
जय जवान
जय भारत 🇮🇳🇮🇳🇮🇳

— Subhash Ghai (@SubhashGhai1) February 26, 2019
Jai Hind 🇮🇳 🇮🇳 #IndiaStrikesBack https://t.co/6dmzB7jNyb

— Vivek Anand Oberoi (@vivekoberoi) February 26, 2019
Circulating on #Whatsapp:

HOW's THE JAISH?

DEAD SIR.#SurgicalStrike2 #IndianAirForce #Balakot #IndiaStrikesBack #SurgicalStrikes

— TANUJ GARG (@tanuj_garg) February 26, 2019
नमस्कार करते हैं। 🙏🇮🇳

— Abhishek Bachchan (@juniorbachchan) February 26, 2019
भारत माता की जय !!! 🇮🇳 #IndianArmedForces #Salute भरतिया हूँ, गर्व है।

— Riteish Deshmukh (@Riteishd) February 26, 2019
The Bollywood actors even have called it a Surgical Strike 2. Let us tell you that earlier Bollywood made a film called Uri-The Surgical Strike, starring Vicky Kaushal and Yami Gautam that was based on a true surgical strike that took place on 29th September 2016.
Also Read - Airlift actor Akshay Kumar on Surgical Strike 2: 'Andar Ghus Ke Maaro'