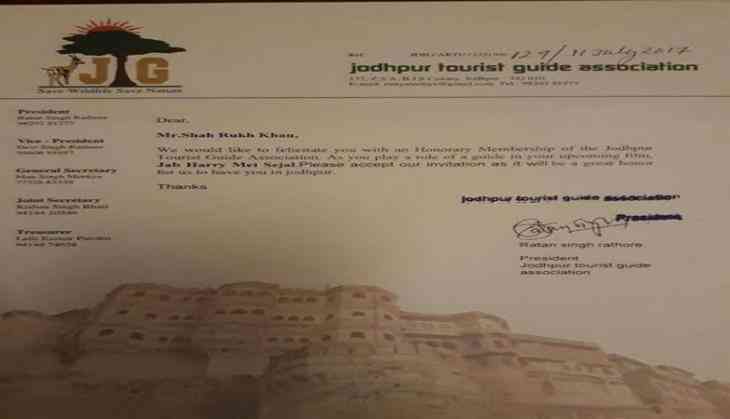 SRK to receive Honorary Membership from Jodhpur Guide Association
The Jodhpur Tourist Guide Association of Rajasthan has approached Bollywood Superstar Shah Rukh Khan with an Honorary Membership.
Rajasthan is renowned to serve as a Tourist attraction in India with 'Tourist Guide' proving to be a full time profession in the state. Jodhpur Guide Association Rajasthan is a 148 member body, consisting of Tourist Guides from the city.
The association will confer Shah Rukh with a membership and badge as a token to mark the association.
The association marks to be a gesture of awe by the Guides to Shah Rukh, who will be seen playing the role of a Tourist Guide in his upcoming film 'Jab Harry met Sejal'.
The Honorary membership comes as an addition to a list of felicitations and doctorates from around the world as possessed by Shah Rukh.
Ratan Singh Rathore, President of Jodhpur Tourist Guide Association, said, "We are very excited to bestow Shah Rukh Khan with an Honorary Membership at our Jodhpur Tourist Guide Association. It would be an honour to host him. It is a matter of pride that he would represent our profession in Jab Harry met Sejal. We are happy as he will bring recognition to the job of a Tourist Guide."
Shah Rukh will be seen essaying the role of a Guide on celluloid, nearly 52 years since legendary actor Dev Anand's iconic 'Guide'.
Imtiaz Ali directorial 'Jab Harry met Sejal' will feature SRK as a professional Tourist Guide in Canada. The actor will be seen exuding the fundamentals of a Guide.
Glimpses of SRK as an outspoken and fun loving Guide have already left the audience rooting for his onscreen character 'Harry' from the film.
Presented by Red Chillies Entertainment, ' Jab Harry met Sejal' is directed by Imtiaz Ali. The film is all set to release on August 4th.
-ANI