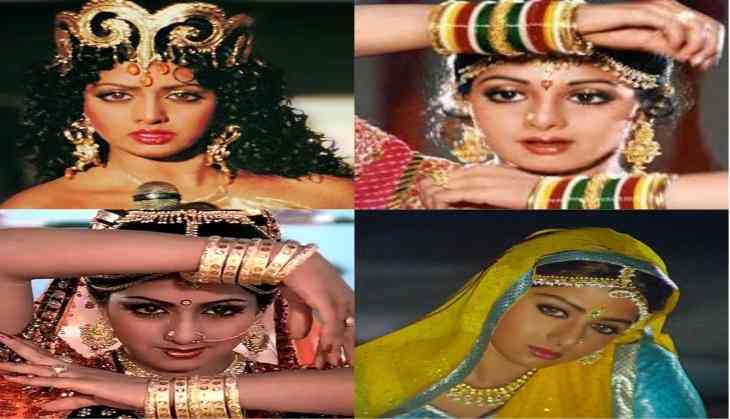 The legendary versatile Bollywood actress Sridevi had an untimely death that was a big shocker for her fans. The actress breathes her last in Dubai after a massive cardiac arrest.
The versatile actress Sridevi, 54, was attending a family function in Dubai with her Husband Boney Kapoor and younger daughter Khushi. During the time of her death, they were with her.
The gems that made her Bollywood debut as a child artist in film Julie in 1975. Sridevi was the first female superstar of Bollywood that India had. She was honoured by Padma Shri, in 2003 by the government of India.
Sridevi was known for her remarkable performance in her films and the most loved onscreen pairing of Sridevi was with her brother-in-law Anil Kapoor. Sridevi has given multiple hits like Sadma, Judai, Khuda Gawah, Jabaaz, Nagina, Mr. India and so on. After Judai Sridevi took 15 years break and made a smashing come back in Gauri Shinde's English Vinglish in 2012.
Sridevi is an actress who has worked with many veteran actors like Amitabh Bachchan, Kamal Haasan, Rajinikanth, Rishi Kapoor, Jitendra, Mithun Chakraborty, Anil Kapoor, Shahrukh Khan and many others. Sridevi was a great dancer and was named as expression queen of Bollywood.
This gems that Bollywood had will be always remembered for her epic and versatile performance and dialogue delivery. In the honour, let's remember the legendary actress and truly a 'Nagina' of Bollywood.
Here are some of the famous and favorite dialogues of 'Chandni' girl whose sudden death gave the country 'Sadma.'
Army: Agar aap log mera saath chhodkar gaye ... toh zindagi aap logon ka saath chhod degi
Lamhe: Sabhi badhe hote hai ... magar koi apne badhon se bada nahi hota
English Vinglish: Mard khana banaye toh kala hai ... aurat banaye toh uska farz hai.
Ghar Sansar: Badhon ke mooh se nikli hui gaaliyan ... choton ko dua bankar lagti hai ... joh badhon ki daant kha leta hai ... woh zindagi ki thokarein nahi khata.
Ram Avtar: Pyar ek jazbaat hai joh kiya nahi jaata ... yeh ittefaq se ho jaata hai
Inquilab: Pehle main tumhare pyar mein deewani thi ... aaj main tumhare izzat ki deewani ho gayi
Mr Bechara: Ladkiyan kapur ki tarah hoti hai ... teeli lagi nahi ki jalkar roshni dene lagti hai ... aur tum ladke tubelight ki tarah hote ho ... bahut der se jalte ho
Army: Duniya mein koi bhoot pret, koi jungli janwar is insaan naam ke janwar se zyada khatarnak nahi hota ... nuksaan toh sirf jeete jaagte insaan hi pahunchate hai
Ram Avtar: Shaadi toh kabhi na tootne waala ek bandhan hai, ek haqeeqat hai ... yeh woh rishta hai joh saans tootne ke baad hi tootta hai
Chaalbaz: Tujhe toh main all India star bankar dikhaongi
English Vinglish: Mere favorite subject mein fail hoke ... doosre subject mein pass hone ka kya fayda
Joshilaay: Samjhao isse pyar koi paap nahi hai ... jallad hai kambhakt, yeh mera baap nahi hai
Khuda Gawah: Cheel ki chaunch mein angoor, khuda ki kudrat ... pehlu-e-hoor mein langoor, khuda ki kudrat
Chandni: Cheel ki chaunch mein angoor, khuda ki kudrat ... pehlu-e-hoor mein langoor, khuda ki kudrat
Lamhe: Sawaal ke jawaab mein sawaal nahi kiya jaata
English Vinglish: When you don't like yourself... you tend to dislike everything connected to you. When you learn to love yourself... then the same old life... starts looking new... starts looking nice. Thank you... for teaching me... how to love myself! Thank you for making me... feel good about myself. Thank you so much!
RIP @SrideviBKapoor . Of your many memorable performances, I would like to remember you as part of this scene where you spoke about men & women being #Equal . Hope your memory & this message will pass on to the generations to come. 🙏🏻 #ChefMeghna #EnglishVinglish pic.twitter.com/feK4aL70ZV

— Chef Meghna (@MeghnaFoodMagic) February 25, 2018
Mom: Galat aur bahut galat mein se chunna ho to aap kya chunenge?
Char Sansaar: Badhon ke mooh se nikli hui gaaliyan ... choton ko dua bankar lagti hai ... joh badhon ki daant kha leta hai ... woh zindagi ki thokarein nahi khata
Lamhe: Khane ka shaunk aapko bhi hai, khane ka shaunk mujhe bhi hai ... ghumne ka shaunk aapko bhi hai, ghumne ka shaunk mujhe bhi hai ... gappe ladane ka shaunk aapko bhi hai, gappe ladane ka shaunk mujhe bhi hai ... aur sabse zyada important baat yeh hai ... ki hasne ka shaunk aapko bhi hai aur hasne ka shaunk mujhe bhi hai
Chaalbaz: Main madira nahi peeti ji
Chandni: Jeevan ke kis modh pe, kab koi mil jaaye; kaun keh sakta hai
Ram Avtar: Phool pyar ki nishani hoti hai aur khushboo uska ehsaas
Ghar Sansar: Badhon ke mooh se nikli hui gaaliyan ... choton ko dua bankar lagti hai ... joh badhon ki daant kha leta hai ... woh zindagi ki thokarein nahi khata
Also read: Before demise Sridevi completed 50 years in cinema: Arre, maine kuch achieve nahi kiya, There's a long way to go
Boss-Watch Sridevi Surprises Anupam Kher