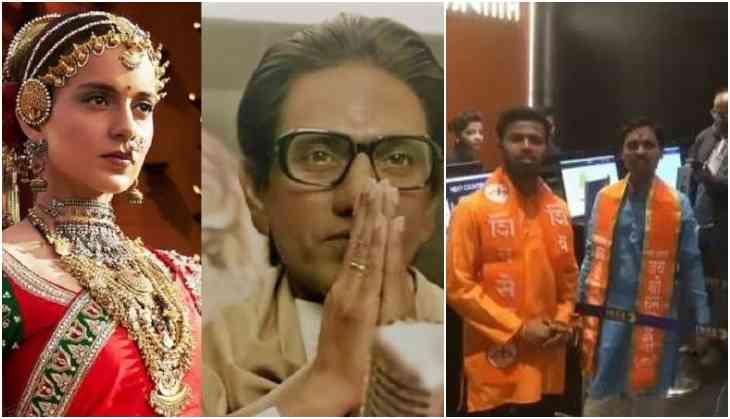 Shivsena Thackeray Manikarnika
The biopic made on Shivsena chief and late Balasaheb Thackeray called Thackeray has been released this Friday. Manto actor Nawazuddin Siddiqui is playing the role of Balasaheb Thackeray in the film. On the other hand, Kangana Ranaut starrer Manikarnika: The Queen of Jhansi has also released on the same day.
In this film, Queen fame actress Kangana Ranaut has played the role of brave queen Laxmibai. However, both the films have released on the same day and it has made disupte in the state of Maharashtra. The dispute reached to a level that one show of the film has been called off.
And this is #ShivSena for you. Shiv sainiks create ruckus in Vashi's INOX cinema - They demand posters of #Thackeray film be put. Already they have stopped screening of first show. pic.twitter.com/bdQQafcQWp

— Kirandeep (@raydeep) January 25, 2019
Actually, in Vashi area of Mumbai at Inox theatre, Shivsena workers started protesting and they also forced the organizers to stop the morning show. The workers said that why the cinema hall has not put Thackeray's poster when there is every film's poster.
With this, the workers also beat the people who came there to watch the film Manikarnika and made them to leave the show. Shiv Sena made allegations that cinema hall owners are not giving an equal platform to Thackeray in front of Manikarnika.
Also Read - Manikarnika Movie Review: Watch Kangana Ranaut - The Queen of Bollywood from first to the last frame