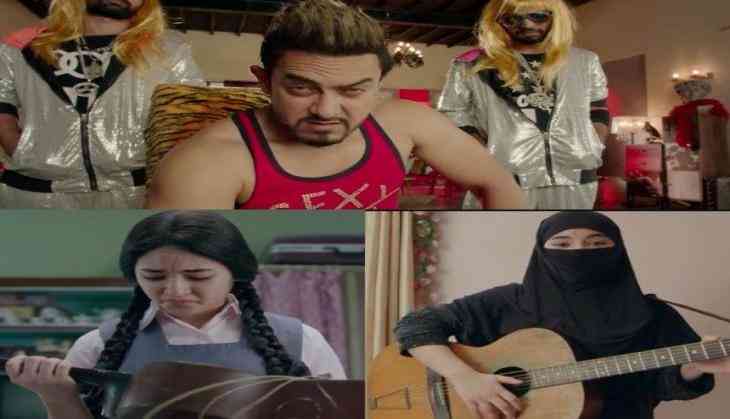 Secret Superstar actress Zaira Wasim calls Aamir Khan 'a creepy man' (Twitter)
After playing the role of father in Bollywood blockbuster Dangal, Bollywood actor Aamir Khan will be again seen in upcoming flick 'Secret Superstar' with Zaira Wasim.
During an interview, Dangal actress was asked her experience on sharing screen with Aamir on which she told that it was challenging as she found otherwise "father figure" Aamir a creepy man in the film, quoted by International Business Times.
"In this film, I would just not stop laughing while working with him (Aamir Khan). I was rehearsing my lines and Advait (director) called me and I went outside and I saw a weird man, wearing tacky clothes, weird hairstyle and I didn't know how to react. It was AK," Zaira said.
"For me personally as an actor, it was a huge jump mentally because I had worked with a person who is a father figure and now I am seeing a creepy man, who is hitting on every other woman. It was AK who is a father figure to me and now I am seeing him in a weird character. I didn't know how to react. It was fun but it was challenging," she added.
The duo Aamir and Zaira are coming back together to present another soul-stirring story with 'Secret Superstar'.
'Secret Superstar' is a story of a young girl who aspires to be a singer. Her dreams, however, face the wrath of her father's opposition. The film showcases the journey of a teenager, who rose to fame anonymously by posting videos on the internet.
'Secret Superstar' is Aamir Khan Productions' eighth film after delivering blockbuster films like 'Lagaan', 'Taare Zameen Par' and ' Dangal' to name a few.
Produced by Aamir Khan, Kiran Rao under the banner name of Aamir Khan Productions, Zee Studios, and Akash Chawla, ' Secret Superstar' is written and directed by Advait Chandan. The film is slated to release this Diwali.