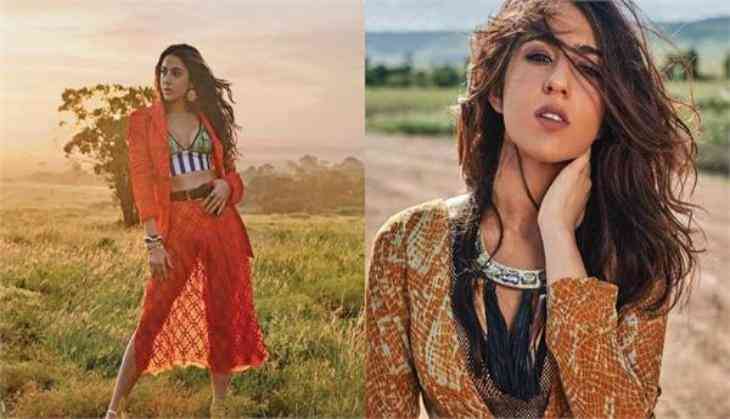 Sara Ali Khan recent photoshoot in Kenya
Sara Ali Khan is shining bright since her last two movies hit the box-office, Sara who made the debut with Abhishek Kapoor's Kedarnath followed by Rohit Shetty's Simbha is being loved by everyone throughout the country. Even before she made her debut she started hitting headlines and became a national crush.
However, this time Sara is not hitting healine for her looks rather she is been criticised for being racist. In a recent Filmfare Magazine photo shoot in Kenya, Sara is seen sharing space with Masai tribesman who is jumping. Sara who did the magazine debut is being trolled badly on Instagram and Twitter, people are going crazy and cursing Sara for using an African tribal man as a 'prop'.
People on Instagram are saying that we thought Sara was intelligent but she also came out to be ignorant just like other celebrities.
While on Twitter also everyone is criticizing her and magazine by giving names such as 'tone deaf' and 'racist'.
Filmfare was cancelled a long time ago, so can one double cancel it? #SaraAliKhan should know better, isn't she that rare star kid who completed her education? Or did she miss out an entire history of colonialism? Or is she just plain stupid and has hidden it well so far? https://t.co/sCs47QvoN6

— Anushree Majumdar (@CaptBackspace) February 27, 2019
Sara Ali Khan went to Columbia, and even she could not tell filmfare that maybe her "stunner" picture is racist and appropriative? Come on, Sara, you are one of the good ones!! https://t.co/lNlaaEcnFR

— shikha (@elitistsadgirl) February 27, 2019
Meanwhile, Sara is set to star in David Dhawan's Coolie No.1 remake which and will step in the shoe of Karishma Kapoor. The movie will go on floor in July and will hit theatres next year.