Last to last night, Bollywood celebrities attended Elle Beauty Awards 2019, and top A list actors like Ranveer Singh, Anushka Sharma, Kareena Kapoor Khan, Janhvi Kapoor, Ananya Panday, came to set the stage on fire. Ananya Panday came to the award show with a beautiful short black dress by Prabal Gurung. She sports pair of black boots and she was looking sexy in the outfit.
The actress also shared the pictures and short videos of her dress on social media account Instagram. She was getting all good comments on the post till the time, actor Sanjay Kapoor came to the post. Ananya Panday shared the picture and wrote, "A dress so fun, just one boomerang isn't enough in @prabalgurung styled by @malini_banerji love by @supriya.dravid @elleindia make up by @makeupandhairbystacy hair by @kajal._komal."
Actor Sanjay Kapoor who was last seen in niece Sonam Kapoor's film The Zoya Factor as her father made a comment on the post and wrote, "The dress is going to fall be careful @ananyapanday." This comment didn't got well with the netizens and they started trolling the actor for his inappropriate comment on the post.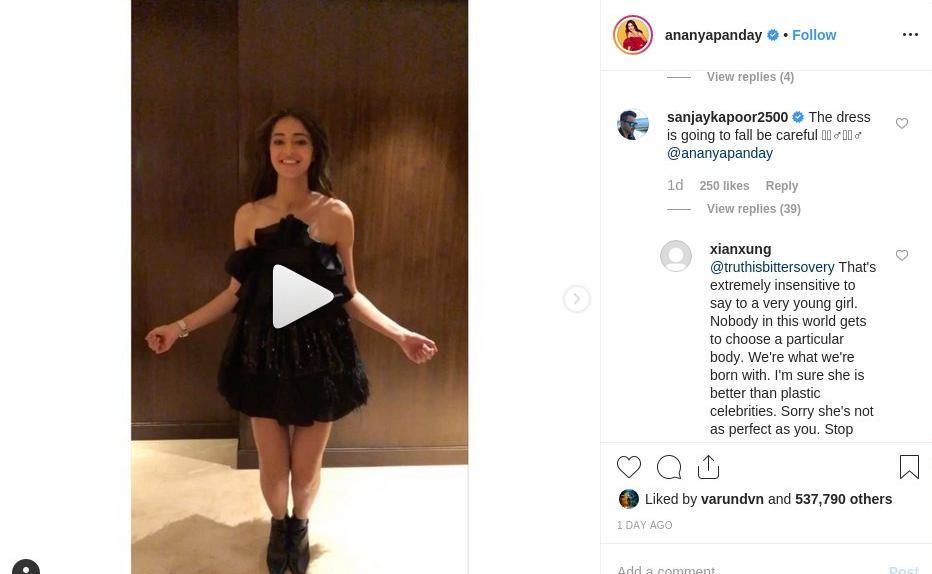 Sanjay Kapoor comment
One Instagram user slammed the actor and wrote, "why would u say this to ur daughters friend-its probably harmless but think of the OTHER connotations,"
Other user wrote, "it seems you forget your boundaries. I think your mother forget to raise a man behind gentle man."
Interestingly, Sanjay Kapoor's daughter Shanaya Kapoor, Ananya Panday, and Shah Rukh's daughter Suhana Khan are besties. After Ananya, now Suhana and Shanya are supposed to enter the film industry.
Also Read -