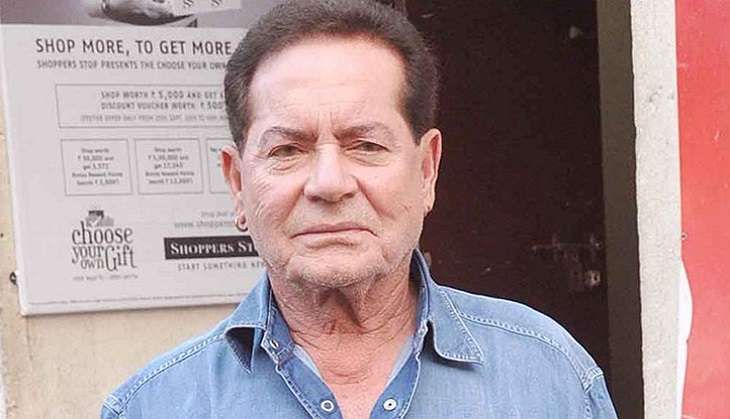 Veteran scriptwriter and Salman Khan's father, Salim Khan, took a massive jibe at a TV news Channel, Times Now, saying that terrorists like Hafiz Saeed, Lakhvi and Masood Azhar have been replaced by Salman Khan, Karan Johar, Mahesh Bhatt and Sitaram Yechury on the most wanted list of the channel.
In a rather sarcastic tweet, Salim Khan said these stars opposing a ban on Pakistani artistes are apparently a "big threat to the unity of the country".
He also asked Yechury to think before he speaks as talking about peace could apparently make him a "traitor."
Breaking news Saeed, Lakhvi & Masood replaced by Salman Khan Mahesh Bhatt Karan Johar & Yechury on the most wanted list of Times Now

— Salim Khan (@luvsalimkhan) October 3, 2016
as these people are a big threat to the unity of our country. Take heart gentlemen at least you are in the job of entertaining people

— Salim Khan (@luvsalimkhan) October 3, 2016
rather than in a job of shouting screaming hurting & humiliating people.  Mr Yechury careful, talking of peace will make you a traitor.

— Salim Khan (@luvsalimkhan) October 3, 2016
Mr Bhatt our country has no dearth of intense and dramatic actors on TV then why look across the border.

— Salim Khan (@luvsalimkhan) October 3, 2016
Salim's Khan's response comes amid growing protests to ban Pakistani artistes and sportspersons. Bollywood celebrities including filmmaker Karan Johar and actor Suresh Oberoi, expressed their anguish over MNS threat to Pakistani artists to leave India, saying a ban is not a solution to terrorism.
At a press conference in Delhi, Salman said that artists are not terrorists as they come to the country with a valid visa granted by the government. He always drew criticism from several quarters with few asking him to go live in Pakistan for the remark.
"Terrorists and artists are different. Do you think there is no difference between an actor and a terrorist? Actors come here with a proper visa granted by government. They have a proper work permit," ANI quoted him as saying.
Johar, whose upcoming directorial venture Ae Dil Hai Mushkil stars Pakistani actor Fawad Khan, said his heart bleeds for the lives lost in the Uri terror attack and he understands the anger in the country but boycotting artistes from the neighboring country is no solution to terrorism.
Meanwhile, CPI(M) leader Sitaram Yechury on Saturday said art and sports should be kept outside political conflicts.
The attack carried out by Pakistani terrorists on the Army base in Uri, Kashmir made various political parties demand a ban on Pakistani actors working in India.
A ban has also been demanded on Karan Johar's Ae Dil Hai Mushkil and Shah Rukh Khan's Raees as they star Fawad Khan and Mahira Khan (Pakistani actors) respectively.
--With Agency inputs