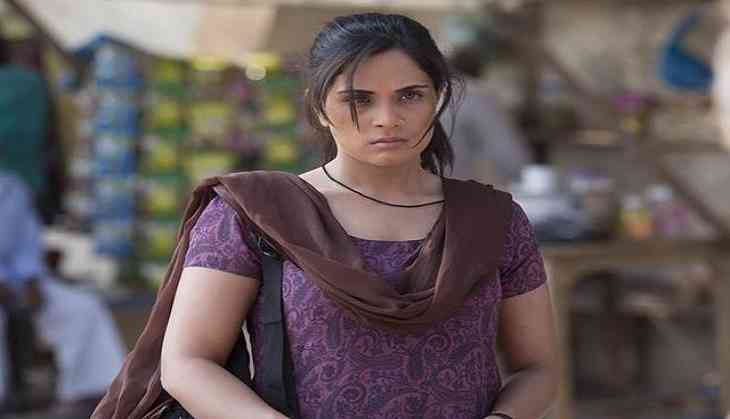 Bollywood actress which is also known as Bholi Punjaban, hope you all understand whom we are talking. Yes, she is Richa Chadha, her blockbuster in films like Fukrey, Masaan and Gangs of Wasseypur. Besides, Richa's strong role in films, she is also famous for the fearless and brilliant answers that she gives to her trollers. A few days back, we have seen her how she was active on the social media during the heinous incident like Kathua and Unnao rape cases in India. Many people have also trolled her and even some says vulgar comments on her tweets. However, Richa's tweet was her opinion over the rape case. Besides, Fukrey actress , various Bollywood celebs also shown their anger over such gruesome crime.
Twitterati makes a remark over Richa that she removes her chaddi in every film but the way she replied to her trollers was remarkable and she handle them like a boss. Later, she was also trolled for supporting a senior and famous choreographer Saroj Khan's remarks on the casting couch.
Also read: Kathua Rape Case: Fukrey actress Richa Chadha gave fitting reply to user who said, 'You remove Chaddi in films'
Now again, Fukrey actress has fallen in controversy for her tweet and get trolled by everyone from every direction. She took to Twitter and wrote something argumentative due to which everyone is hating for it.
Here's what she wrote on the micro-blogging site:
हाँ है भारत में हिन्दू घर्म को ख़तरा।हिंदू धर्म को ख़तरा है हिन्दुत्ववादियों से। धर्म बचाओ,हिन्दुत्ववादियों को भगाओ। जनहित में जारी।

— TheRichaChadha (@RichaChadha) May 5, 2018
Because this remark was given by 'Masaan' actress, Twitterati trolled her brutally.
Check out the reactions of some social media users:
फिल्मों में रोल की भीख मांगने के लिए दुष्कर्म के नाम पर हिन्दुओं के धर्मस्थलों को बदनाम करने वालों को भगाओ, हिन्दू धर्म और देश को बचाओ ।

— Yash Sharma(यश शर्मा) (@TheSharmaYash) May 5, 2018
Sitting in Bollywood and having a company of high profile people, doesn't tell u the ground reality, (those people don't face anything), (they don't know everything) watching with a blind eye 👁‍🗨 they can't judge हिंदू and हिन्दुत्व 🕉️.., so its better to talk about Bollywood

— Surya Verma (@SuryaVe71922455) May 6, 2018
@RichaChadha शुक्र मनाओ कि देश में हिंदुत्ववादी हैं। अन्यथा किसी हरम में तुम्हारी सलवार उतार कर तुमसे मुजरा करवाया जा रहा होता।

— Neha Pandey (@NamoNeha) May 7, 2018
Hindutva means being Hindu The 1 who follows the teachings of Hindutva is Hinduwadi or Hindu

Hindu n Hindutva is never violent until they r not been attacked

Hindus become violent only in self defense

Which is their right

अहिंसा परमोधर्म
धर्मो रक्षति रक्षतः।

2/ pic.twitter.com/ORb264xaUn

— Arvind Lodha (@AB_BJP) May 7, 2018
Popularity through criticism of Hinduism; Short cut🤔 or Shirt Cut😆 to Bollywood! Bollywood we all know......😡😡😆😆

— Dr Neeran Gautam (@neerangautam) May 7, 2018
इस रांड की औक़ात क्या है मैं किसी दलाल के हाथ पैसे भिजवा दूँ तो रात सोने के लिए आ जायेगी

इन रंडियो की दुकान ही ऐसे चलती है हिंदुओं को गाली देकर
इनकी फ़िल्मे देखना बंद कर दो ये वेस्या अपनी औक़ात पर आ जायेगी

— Devendra Yadav (@Devendr52038613) May 6, 2018
फिल्मो में रोल पाने के लिए कितनी बार चड्ढी उतरी।
सरोज खान ने सिर्फ बताया है चड्ढी उतरती है यह नही बताया किसकी कितनी बार उतरती है😁😁तभी तो मैं सोचूँ बालीबुड के लोग अंध न्नगे क्यों रहते है।चड्डी पड़ोसी के घर पर ही रह जाती है।हम किसानों को अब जाके पता चला जब सरोज खान ने बताया 😁😁

— कृषक(MRI) (@krishak_sandeep) May 7, 2018
फिल्मो में काम पाने के लिए @RichaChadha ने ना जाने कितनी बार चड्डी उतारी होगी।गटर वालों से लेकर पता नही कौन कौन उस चड्ढी का आनन्द उठाया होगा।

— कृषक(MRI) (@krishak_sandeep) May 7, 2018
गरमी इतनी पड़ रही हें की
हिन्दू विरोधी कन्फ्यूजन हें
"हाफे " या "भोके "
😅😂😁

— Ajay Singh (@AjaySin74231672) May 6, 2018
ये कब से ब्रह्मज्ञान पेलने लगी🤔🤔
बुलाओ कभी हवेली पे इसको 😍😍😍

— MISHRA (@pretatma999) May 7, 2018
What do you think over the tweet of Richa Chadha's remark? Comment here...
Also read: Fukrey actress Richa Chadha supports Saroj Khan's casting couch comment and got trolled brutally