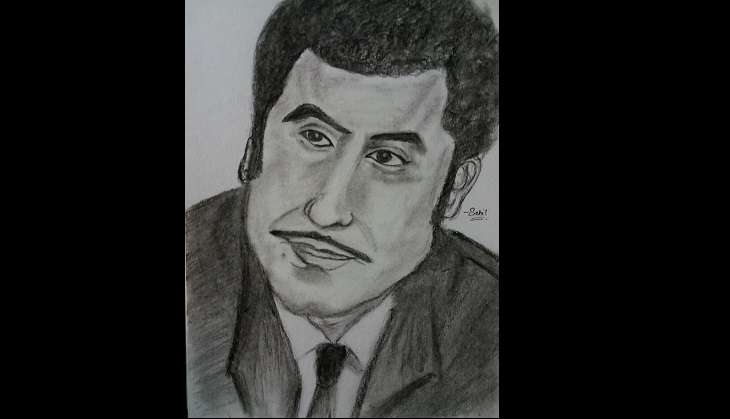 13 October 2016 is the 29th death anniversary of multi-talented artiste extraordinaire Kishore Kumar. Here are 12 lesser known facts about the singing genius.
1. At 18, Abhas Kumar Ganguly set off for Mumbai from his native Khandwa with a bag of clothes, an untrained voice and a passion for singing. His brother Ashok Kumar -- older by 18 years -- was the reigning star of the day and a big-shot at Bombay Talkies. Ashok Kumar launched Abhas with a Khemchand Prakash-composed song for Ziddi (1948).
2. Those who have heard Ziddi's 'Marne ki duaayen' will vouch that Kishore Kumar idolised K L Saigal. Dev Anand's career got a much-needed lift with Ziddi but the singer -- though he changed his screen name to Kishore Kumar -- had to wait for the spotlight to shine on him too.
3. Music director S D Burman helped him find his own voice with the rollicking hit number 'Qusoor aapka' (Bahaar, 1951). Not content with being a playback singer in this Vyjayanthimala starrer, Kishore catapulted to being her leading man in the next successful AVM production, Ladki (1953).
4. Kishore Kumar's acting career took off in a big way and he was one of the biggest stars of the 1950s. His portrayals of the jovial leading man and his frantic antics gained popularity with New Delhi (co-starring Vyjayanthimala), Bhai Bhai (with Nimmi), Asha (with Vyjayanthimala), Chalti Ka Naam Gaadi (with Madhubala) and Delhi Ka Thug (with Nutan).
5. In contrast to his comical image, Kishore also did some serious roles tinged with tragic overtones in Bimal Roy's Naukari (1954) and Hrishikesh Mukherji's Musafir (1957).
6. Despite success as a playback singer with 'Jeevan ke safar mein rahi' and 'Chhod do aanchal' for Dev Anand, Kishore's numerous films demanded that he concentrate on acting. So much so that Mohammed Rafi gave playback for him for the song 'Ajab hai dastaan teri' in Shararat.
7. With Jhumroo (1961), Kishore added 'story-writer' and 'music composer' to his resume. He then switched gears to direct Door Gagan Ki Chaaon Mein (1964), a ruminative look at the bond between a father and his speechless son. The film had Kishore lending his pathos-laden voice to philosophical songs like 'Aa chal ke tujhe.'
8. In the mid-1960s, Kishore tried to re-establish his playback singing career at a time when Rafi was reigning supreme. He built appreciation with songs in Dev Anand's Guide and Jewel Thief and then shot into singing superstardom with the 1969 Rajesh Khanna blockbuster Aradhana and its popular songs like 'Mere sapnon ki rani kab aayegi tu' and 'Roop tera mastana.'
9. Kishore Kumar has displayed his famous flair for yodelling in 'Main hoon Jhumroo' and 'Zindagi ek safar hai suhaaana' to name a few.
10. The famous songs that Kishore sung for superstar Rajesh Khanna include 'Yeh shaam mastani' (Kati Patang), 'Chingari koi bhadke' (Amar Prem) 'Zindagi ke safar mein' (Aap Ki Kasam) and 'Hamein tumse pyar kitna' (Kudrat). For the other superstar of that era, Amitabh Bachchan, he has voiced chartbusters such as 'My name is Anthony Gonsalves' (Amar Akbar Anthony), 'Khaike paan Banaraswala' (Don), 'O saathi re' (Muqaddar Ka Sikander) and 'De de pyar de' (Sharaabi).
11. Kishore Kumar divorced Ruma Guha and Yogita Bali. He married famous actress Madhubala but she passed away in 1969. Kishore tied the knot for the fourth time with the much younger Leena Chandavarkar. She joined his team of bandariyas (monkeys) - this is what he called his wives since they all happened to be living in Bandra when they married him.
12. A few years before he died, Kishore yearned to return to his hometown Khandwa. But it wasn't to be. In 1987, Kishore succumbed to a heart attack, even as his recently-released hit, 'Kaatein nahin katate' (Mr India) as well as countless classics remained popular on the airwaves.
-- Sourced from Dinesh Raheja (Editor - Bollywood News Service)