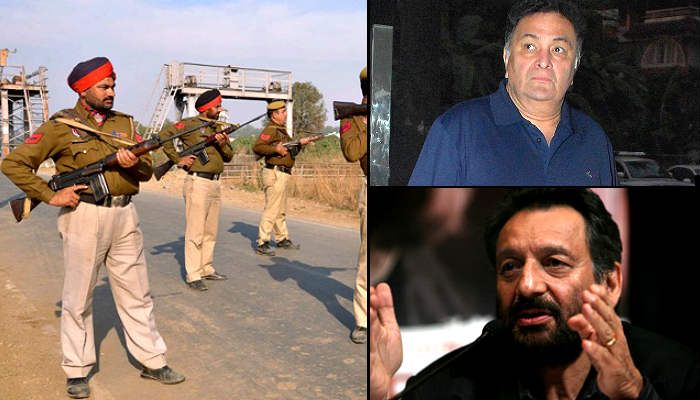 Celebrities like Rishi Kapoor, Shekhar Kapur and Rahul Dholakia condemned the terrorist attack in Pathankot on Saturday, saying that there will always be people rooting for war between countries, but one should not wander off from peaceful path and find a way out.
Veteran actor Rishi Kapoor took to Twitter to share his views as said:
"Don't understand this. How will peace ever be achieved. These incidents fuel further problems. Think!". [sic]
His tweet was in response to filmmaker Shirish Kunder's post terming the attack as a move by neighbouring country -- Pakistan. His post read:
"#Pathankot attack is Nawaz Sharif's idea of surprise visit". [sic]
In a major security breach, terrorists entered a frontline Indian Air Force (IAF) base near Pathankot, Punjab early Saturday and engaged the security forces in a fierce gunfight.
Police sources said that at least two IAF security personnel were killed and four others were injured in the terror attack that started around 3.30 a.m. Four terrorists were also killed.
Shekhar Kapur feels that such attacks costing innocent lives should have no place in the world. He shared:
"It's not about revenge. It's about doing whatever it takes to ensure it absolutely never happens again. Indian lives are not cheap #Pathankot". [sic]
Rahul Dholakia tweeted:
"There were, are and always will be people who don't want peace. War is profitable to some. Find them, hunt them, silence them". [sic]
On the other hand, filmmaker Ashoke Pandit took to the micro-blogging site to criticise the "sad" attack in a hard way. He shared:
"The reason of #PathankotAttack is to scuttle the #IndoPaktalks is the most foolish argument given by the #BJP leaders. #PakBackstabs. My heart goes out to the families of two Jawans who are killed today in #PathankotAttack. Pakistan first attacks and then condemns it and we believe them also. Sad. #PathanKotAirBaseAttack #PathankotAttack #PakBackstabs". [sic]
--
IANS