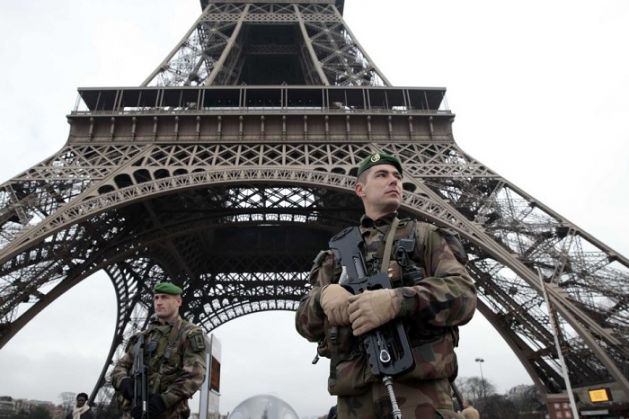 Bollywood actors Akshay Kumar, Alia Bhatt, Priyanka Chopra, Sonam Kapoor and others react to the terror attacks in Paris.
The series of attacks that happened on Friday are said to be the deadliest violence to strike France since World War II.
The stars took to Twitter to express their solidarity with the people in Paris, which has been a shooting location for many Bollywood movies.
"Shocking, Appalling and disgusting!!!!! Yes this massacre is truly an attack on ALL humanity! Really praying for some peace in this world!" tweeted Alia.
Priyanka posted,
"No words needed #PrayForParis."
Actor Sidharth Malhotra tweeted,
"Shocked at the news of #ParisAttacks strength and prayers to the victims and their families. Power to the security authorities."
Akshay wrote,
"Woke up to the terrible news of the #ParisAttacks! Haven't we evolved at all? My thoughts, love & prayers with those affected."
Dum Laga Ke Haisha actress Bhumi Pednekar said,
"Where is humanity headed.. I am shocked and so sad. Let's pray for the victims and their families #PrayForParis."
"Woke up to the horrific news about attacks in Paris. Pray for more courage for the people in Paris against these cowardly attacks," wrote actress Anushka Sharma.
Filmmaker Karan Johar slammed the attaks, saying,
"It's just horrific... My heartfelt prayers for the families who have lost their loved ones....devastating...."
"No words can offer condolences or put a shame to the cowards who engineered such a monstrous attack #PrayForParis #PrayforPeace," actress Yami Gautam said.
Actress Sonam Kapoor tweeted,
"This makes me so sad. Je t'aime Paris. #prayforparis."
Pakistani actor Ali Zafar wrote,
"#PrayForParis #PrayForPeace. No words.
--PTI