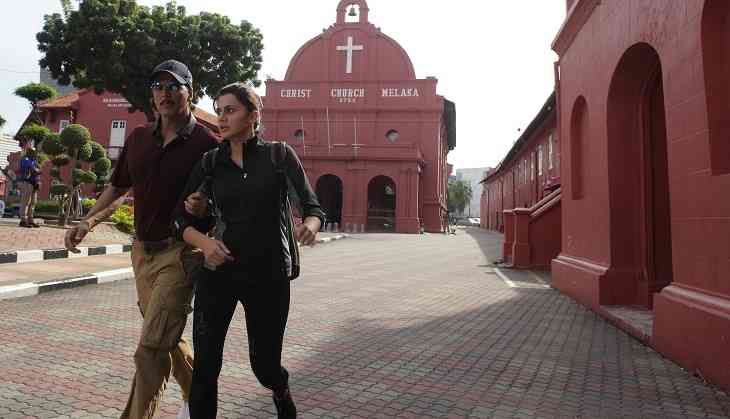 Akshay Kumar and Taapsee Pannu in Naam Shabana
It seemed like a great idea to focus on the back story of Shabana, a fascinating character in the Neeraj Pandey directed earlier film, Baby. Enacted by Taapsee Punnu, Shabana and her action scene had added a lot of value to the otherwise male dominated film.
But as they say there is many a slip between the cup and the lip. It is a pity that an unbelievably illogical script (surprisingly written by Neeraj Pandey) and unimaginative execution (director Shivam Nair) ends up making this film a crashing bore more often than not.
Shabana has a disturbing past and hence she is not able to open up to the man she loves. Just when she is getting comfortable with him, tragedy strikes and she wants to take revenge. In the meanwhile, the intelligence group working for the country has zeroed in on her to help them carry out their covert operations. Shabana readily agrees and thus her training begins.
Taapsee's action sequences entertain us in parts, but her performance leaves one disappointed. There is definitely a difference between being poker faced and expressionless. Akshay Kumar's rather long cameo is a refreshing change but then after a point seems as wasted as the forced introduction of other characters like that of Anupam Kher, Danny Denzogpa etc. from Baby. South Indian actor Prithviraj in the negative role would have been a great asset but he along with Manoj Bajpayee seemed totally wasted with their caricaturish character sketch.
The biggest culprit in this disappointing film is the script which had gaping loopholes that were perhaps ignored to keep the 'thrill' going. A part of the blame should also go to the deafening relentless background music.