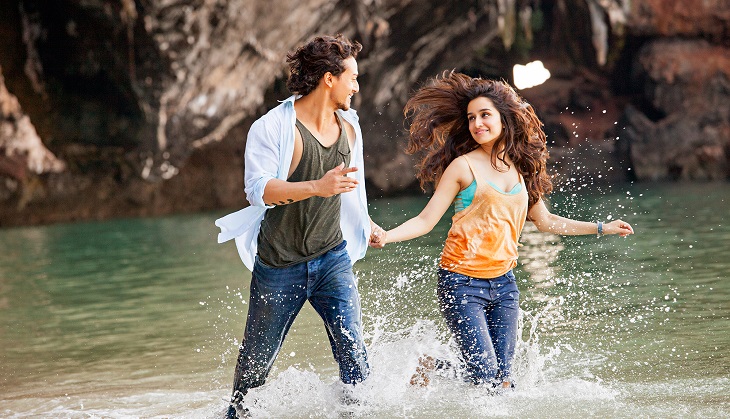 Sabbir Khan\'s third film after Kambakkht Ishq and Heropanti
Action movie made primarily for single-screen audiences
General waste of time, space and money
1 Star
It's bad manners for moviegoers to use their phones in theatres. But then again, it's bad manners to make a movie like 'Baaghi' and release it in these halls. To concretize this legacy of bad manners breeding worse manners, let me share with you my one-sided exchange of text messages during Sabbir Khan's 140-minute-long Tiger Safari. I usually take notes on my phone, but one thing led to another and I found myself frantically writing a mutant form of elaborate observations to a clueless friend. 
Fri, 9.18 AM (via sms): Didn't know it was that bad. Tell her to at least consider not moving out. Anyway, trailers have begun. Will text you after it's over. (You on whatsapp?)
Fri, 9.32 AM (via sms): Just watched the Houseful 3, Sachin and Azhar trailers. Tired already. 
Fri, 9.35 AM (via sms): Okay, Baaghi time. Hang on till noon. So sorry, can't message till then. Part of my film-critic ethics booklet. 
Fri, 9.39 AM (via sms): Just realized: 'Bagh' translates to tiger. And Tiger Shroff is the hero. See what they did? Rebel Tiger. Is this set in Sri Lanka? #loljk 
Fri, 9.43 AM (via sms): Think I've spotted TVF creative head, Biswapati Sarkar. What's he doing here as hero's mandatory chubby pal? Oh, because he's dark. 
Fri, 9.50 AM (via sms): Tiger plays a Martial Arts wild-child named Ronny. He doesn't look like a Ronny. Two years after Heropanti, the kid still speaks with an accent. #BadKitty
Fri, 9.52 AM (via sms): Bad-ass Ronny has been hired by a dark-skinned South Indian film producer to "raid" some dark-skinned building in Bangkok and rescue their kidnapped heroine Sia (Shraddha Kapoor). #RaidRedemption #YouRemember #CopyCat #SaveTheTiger
Fri, 9.55 AM (via sms): Flashback. Ronny fell for Sia on a train ride, when she danced at a station. Rain apparently turns her on. What is it about Shraddha that compels directors to make her act all demented in slow-mo when she sees rain or snow or sunshine or air? 
Also Read: Here's how we think Tiger Shroff's Baaghi will fare at the Box-Office
Fri, 9.58 AM (via sms): Sunil Grover plays Shraddha's greedy Punjabi father. He is trying his best not to look like Shakti Kapoor.
Fri, 10:02 AM (via sms): Villain (Telugu star Sudheer Babu) also fell for her on that train. As it turns out, villain is star fighter at a Kerala-based Academy where Ronny has been sent to train.
Fri, 10:15 AM (via sms): The Ra's al Ghul type Academy guru is villain's dad. Tiger is emulating Salman with the inane "Abhi toh maine start kiya hai" line. Geoffrey Boycott's mum could say it with better diction. Nobody is clapping. 
Fri, 10:31 AM (via sms): Sia behaves like she has the IQ of a coconut. Why do people fall for her?
Fri, 10:32 AM (via sms): That was mean. Sorry. Villain and Ronny, combined, have the IQ of a waxed chest. #Feminism101
Fri, 10:35 AM (via sms): Ronny rescues a mute kid from villain gang. It can only communicate with "ya ya." It is an annoying creature.
Fri, 10:41 AM (via sms): Jealous villain just killed his principled pop so that he can kill Sia's new lover Ronny. Poisoned his curd-rice. #Blasphemy #ExcrementGotReal
Fri, 10:47 AM (via sms): Interval. Has she left? You okay?
Fri, 11:01 AM (via sms): Ronny has reached Bangkok to rescue Sia. Sanjay Mishra and Sumit Gulati are cab drivers. At this rate, I'm expecting Pacino and Day-Lewis to show up as Thai hustlers. 
Fri, 11:07 AM (via sms): I wonder how Ronny can afford tickets to Bangkok. 
Fri, 11:10 AM (via sms): Crouching Tiger, Hidden Villain. #loljk
Fri, 11:12 AM (via sms): Ronny rescued Sia from a hospital. Villain lost half his racially diverse henchmen. Romantic song. Rainfall. Sounds like the one your wife liked. Oh, sorry. 
Fri, 11:17 AM (via sms): Why can't anyone just shoot Ronny? All of them have guns. Isn't that the whole point of weapons? They can use one on me. End me, or this movie. #SameDifference
Fri, 11:22 AM (via sms): Ordinary children are given toys and cars to play with. Star kids are given films and careers to play with. 
Fri, 11:28 AM (via sms): Ronny is just running up a building and killing folks on the way like some outdated 8-bit video game chimpanzee. #DonkeyKong
Fri, 11: 36 AM (via sms): This movie started yesterday. Tiger looks like Bobby Deol in CCTV footage. 
Fri, 11:34 AM (via sms): This movie is so long that this text has gone backward in time.
Fri, 11: 41 AM (via sms): The End. Knowing Sia's kinks, they should just shift to Cherrapunji where it rains all year long. #MartialArtsMarriage
Fri, 11:46 AM (via sms): If I were you, I'd thank my stars that it's only my wife that has left me. Way better than watching this on a Friday morning.
Fri, 11:54 AM (via sms): Hello? 
Network: Enough. We have activated a free annual sms pack for you. Just stop watching such films.