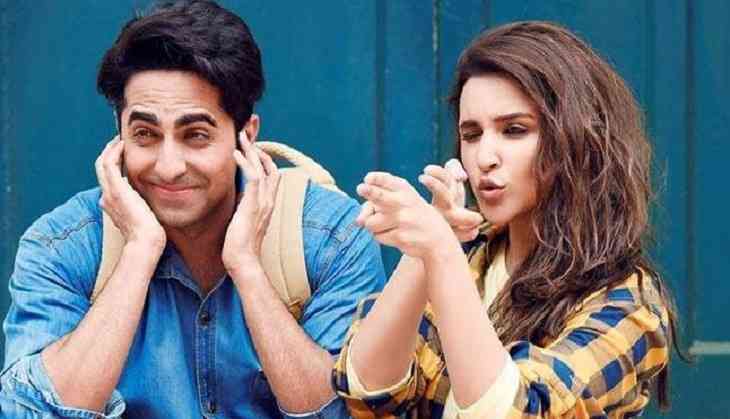 This film starts with a promise. And then in the second scene it starts losing steam, even as one struggles to come terms with the possibility of a Bengali man, Abhimanyu Roy (Ayushman Khurrana) churning out sleazy Hindi best sellers. His book Chudail ki choli is a hit and since last two years, he's going through a writer's block. His agent is breathing down his neck but the man in question is too busy going back and forth his childhood and younger days, and his failed romance with the perky girl next door, Bindu (Parineeti Chopra).
Bindu is impatient, adventurous, peppy, and gutsy. In short, she is the desi, small town version of Vaani Kapoor's character in YRF's yet another film, Befikre.
The film does have a fairly interesting plot, as the rather insipid khichdi of a story is given a gheewala tadka as their shared love for old Hindi film songs and music is revealed. (Not a novel idea though. It was used far more effectively in YRF's delightful film, Dum Lagaa Ke Haisha.)
It is a cassette full of songs that they recorded together that takes Abhimanyu aka Bubla back to the time when he was three feet tall and totally smitten by Bindu. Bindu on her part seemed totally self absorbed to notice. As they grow older and go through their individual journeys, they never lose touch. Fate brings them back together and the rest is....okay nothing really to write home about.
Ayushman Khurrana is earnest and likeable, but his wishy washy character sketch works against him. Parineeti is a natural in front of the camera, but if she could stop trying so hard to fit into the peppy mould, she would have been far more likeable. One scene where she comes back as a much older person is far more agreeable than the desperate 'I am crazy look at me' act.
This is a love story that doesn't move you (except one stray scene), doesn't make you root for the depressing love that Abhimanyu feels for Bindu. Even before you reach the interval point, you want to shake him up and ask him to move on and save us the trouble of having to sit through the second half.
Star: Two and Half