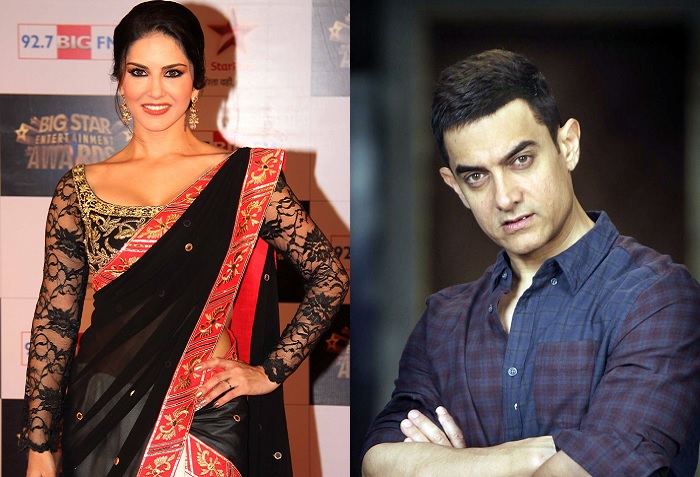 Mastizaade actress Sunny Leone has said that whether or not she gets to work with Aamir Khan in a film, she will always remain a fan of the superstar.
Sunny has also expressed gratitude towards a number of Bollywood celebrities - including Aamir Khan - who supported her in the wake of a controversial interview with CNN-IBN's Bhupendra Chaubey.
The Jism 2 actress told the media that the interview was "not right". When asked to react to Aamir Khan's offer to work with her, she told IANS:
"I'm still digesting what he said... I'm still in shock. Whether we work together or not I'll still always watch his film and I will always be a fan."
Following the interview - which has been labelled sexist - the Taare Zameen Par star praised the Indo-Canadian former adult film star for tackling all of Chaubey's questions with grace and dignity. Chaubey had asked Sunny if Aamir would like to work with her. To which the Dangal star tweeted:
"And yes Sunny, I will be happy to work with you. I have absolutely no problems with your 'past', as the interviewer puts it. Stay blessed. Cheers. Aamir".
Sunny also garnered support from a number of other celebrities, including Rishi Kapoor, Alia Bhatt, Vir Das and Sushant Singh Rajput.
"I think what people saw in that video was (reflective) of what I might have been feeling... of the manner in which the interview was taken."
"I did feel it (the interview) wasn't right and was wrong... But I did not know how people are going to react. They have been so nice and so kind that they (celebrities) are all on your side".
Sunny Leone is currently busy promoting her film Mastizaade, a sex comedy directed by Milap Zaveri which is slated to hit the screens on 29 January.
-- IANS