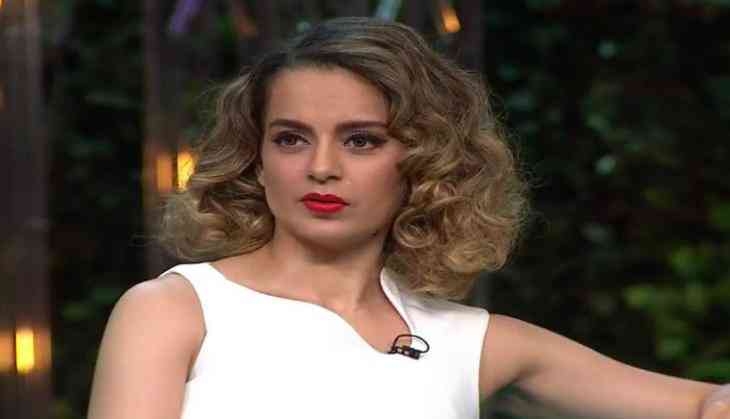 Known for her giving a solid comeback in Bollywood, actress Kangana Ranaut is now-a-days in the headlines for revealing the controversies that she had encountered in past.
The actress not only lashed out at Aditya Pancholi and Hrithik Roshan but she also openly whipped Women's Commission.
Kangana in her upcoming film 'Simran' promotional interview at Rajat Sharma's famours show, Aap Ki Adalat opened up about her relationship with Hrithik Roshan and Aditya Pancholi.
She also targeted Women's Commission telling how they have been unfair towards her. She stated, "Vishal Bhardwaj suggested me to take help from Women's Commission after Hrithik sent me a notice, threatening to make my personal pictures and videos viral. First, they took my case up but after a few days, they called me, saying, 'We have good relations with Rakesh Ji, you should not speak much. You should go easy.' I was shocked and since then I hate Women's Commission. Imagine if they can be unfair to a Bollywood star like me, what would other common women go through if they go to them! Women's Commission is fake, and has been bought."
The statements made by 'Simran' actress did not go well with Vijaya Rahatkar, the chairperson of Maharashtra State Commission for Women.
Vijaya took no time in reacting on Kangana over Twitter and slammed her for her comments.
She tweeted, "Deeply disturbed by Ms.Kangana Ranaut's irresponsible statement where she has made grave allegations against the Womens Commission."
Vijaya also said, "Neither has Ms.Kangana Ranaut ever approached Women's Commission nor is Gurmeet Chadda associated with MSCW in any way."

She concluded by saying, "MSCW is fully committed to the cause of women in distress. Unfortunate that Ms.Ranaut has chosen to project us wrongly."
Recently, the 38-year-old interior designer posted a photo alongside the ' Mohenjodaro' star, captioning it: "The is no allegation or sad plot that can have the weight to triumph over a good soul. #powerofthetruth #mafamilia #goodoverevil."
The is no allegation or sad plot that can have the weight to triumph over a good soul. #powerofthetruth #mafamilia #goodoverevil 😇🖤🌈🦋 pic.twitter.com/WlVKbIhFjE

— Sussanne Khan (@sussannekroshan) September 3, 2017