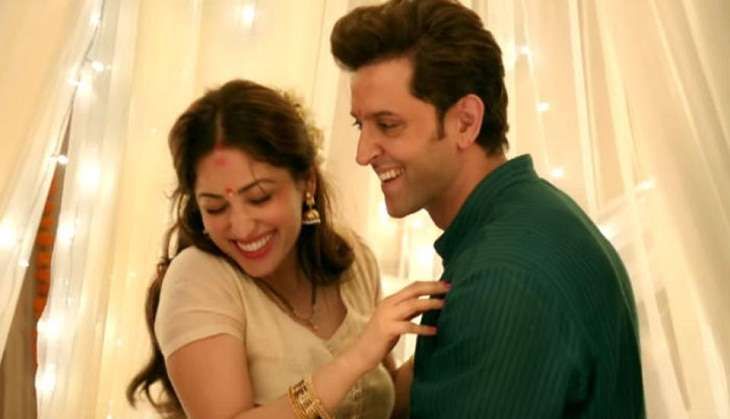 A rogue with the help of a friend rapes a woman. Her husband is out to seek revenge from the rapist who belongs to a political family and is out of reach. No novelty in the story except that the couple in question is visually impaired, and the husband takes on his sighted enemies, in spite of the handicap.
In what could be his career best performance, Hrithik Roshan plays Rohan, a blind dubbing artiste who's head over heels in love with a blind girl, Supriya (Yami Gaurtam). Though the match between the two is fixed by well wishers, it seems like it is made in heaven, as the two take to each other from the first time they get together. The simple endearing love story that develops between the two lead characters, makes you want to root for them and hope for a ever after.
But one fateful day, the whole situation changes as the neighbourhood cad, Amit (Rohit Roy) along with his friend, Wasim (Saidur Rehman) barge into Rohan and Supriya's idyllic home and rape her. The cops are not willing to touch the case as Amit happens to be the brother of the local corporator, Madhavrao Shellar. (Ronit Roy). That's when Rohan plots a strategy to put his handicap in the backburner and make utmost use of his abilities to bring justice to the love of his life.
This thriller keeps you glued for most part of the film, as the script (Sanjay Masoom and Vijay Kumar Mishra) is taut and clever. But then there are points when there are liberties taken, as Rohan's path to revenge seems too easy or manipulated to suit the flow of the film.
In what could be perhaps called his career best performance, Hrithik Roshan plays his part of a happy go lucky, bright fellow who is not blessed with the gift of sight but is smart enough to know how to employ his other heightened senses with such sincerity and precision, that your heart goes out to him.
Yami, as the blind yet admirably independent woman gives a good performance. Rohit Roy is pretty good too.
It is to Sanjay Gupta's credit that he doesn't let the pace fall even for a moment and keeps you involved in this revenge drama through almost every minute of it.
Watch this film if you are a Hrithik Roshan fan. Watch it even if you are not. A performance this good needs to be rewarded.
Stars : Three and half