Bollywood actor Sonu Sood is obviously ecstatic that he got to work with the living legend, Jackie Chan in Kung Fu Yoga, which is probably his most ambitious films till date.
Ahead of the film's release, the actor speaks about his learning on the film set and how he managed to get two superstars i.e. Salman Khan and Jackie Chan under the same roof.
You have done larger than life action films in Bollywood, but the form of action Jackie Chan is known for is diametrically opposite. What sort of training you had to undergo to learn the same?
The action in Bollywood is far different from the one which I have done in Kung Fu Yoga. When working with Jackie Chan, the action is very quick. There is a need to hit 4 to 5 punches in quick succession. I realised that they fight from their waist and shoulders. I trained with Jackie Chan's personal team for over 6 months and it was a great learning experience. I learnt how to maintain the rhythm in action from the team there. It was not difficult as I believe in hard work. I was keen to learn more things on the sets as the experience of working with Jackie was like learning in a school.
How easy or difficult was it to execute the learning?
All the stunts were nicely put down on paper, which made it a bit easier for us to execute because everything was in place. There were cars, choppers, hummers and everything possible on the sets and all we had to do is follow the instruction given to us. We were working with the best action director in world who would leave no stone unturned to make it look real and authentic.
Are you a Jackie Chan fan in real life?
I have always been a Jackie Chan fan. I still have the video cassette of his films like Police Story, Rush Hour and many more. Although the cassettes won't work today, I still have them stored.
Salman Khan dropped in to meet Jackie Chan. Was it planned?
Salman Khan is a huge Jackie Chan fan and he wanted to meet him. Jackie had read stuff about Salman and was keen to interact with him. Salman was shooting for Tubelight that day and he cancelled his shoot to drop in on the sets and be with Jackie. I had spoken to Jackie Chan about Dabangg, Sultan and a few other films. So when the two met, Salman was discussing how difficult was it for him to shoot Sultan at his age (51) and lauded Jackie Chan for doing action films even the age of 63. These are all the special moments they shared with each other and I think it was indeed a memorable night.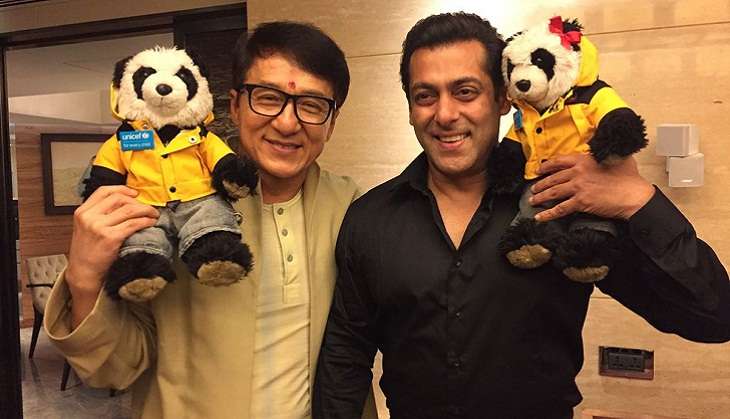 Jackie Chan with Salman Khan (Jackie Chan with Salman Khan)
Was Jackie Chan aware about Salman Khan and his body of work?
Jackie does not get to watch many Hindi films but he was aware of the fact that there is this guy name Salman Khan who is a huge movie star in India. He had seen several posters of Salman Khan Films like Dabangg, Bajrangi, Sultan and Wanted. The best part about their meet was the fact that they both are very humble and they connected with each other pretty well. I even told Salman and Jackie that the two should collaborate on a film. They both laughed when I said the same, but you never know?
Who is the most popular Bollywood movie star in China?
I think Aamir Khan is the most known Indian actor in China. Both PK and 3 Idiots did well in China and they opened new window for Indian films. It is still the beginning, I am sure post Kung Fu Yoga things would change for good.
What are your expectations from Kung Fu Yoga?
I wish Kung Fu Yoga does wonders for all of us and it opens new avenues for actors abroad. I think it is the name, fame and achievement which I am looking at.
Kung Fu Yoga is slated to release in India on 3 February 2017.