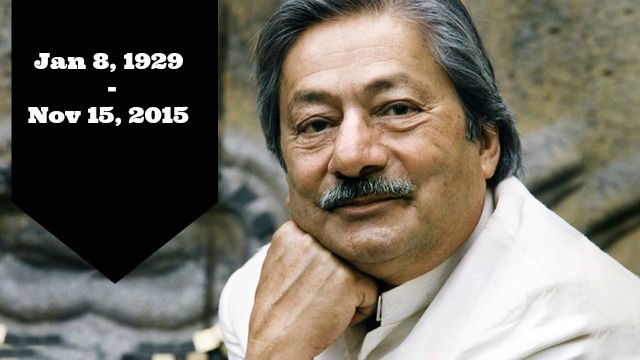 If you were born on the other side of Y2K, you may not know who Saeed Jaffrey is. But for those of us who've grown up on an unhealthy amount of Bollywood films, be it 80s' or 90s' cinema, Saeed was a man synonymous with daddy roles.
With his carefully manufactured wind-swept hair-do, a faint strain of I'm-not-from-around-here when he spoke, and a general persona that resembled a British lord rather than your average Indian father, Saeed wasn't a man you forgot easily.
From the sniveling Daddy-in-law in Bahu Ho toh Aisi, to the 'nawabiyat' in Shatranj ke Khiladi, from insignificant dad who nobody bothered with in Yeh Dillagi to Daddy Big Eyes in Dil : his reel life was as colourful as his real one.
A peek at the many shades of the man, the actor, and the co-star that was Saeed Jaffrey, through some beautiful pictures from the era gone by:
Bidding farewell to a true treasure of Indian cinema. Saeed Jaffery, thank you for gracing us with your presence. pic.twitter.com/8F5FVIiwhO

- Poetry in the aviary (@ashimasarin1) November 16, 2015
Lovely "@ShiladityaBora: Sai Paranjpye, Saeed Jaffery and Deepti Naval on location in Delhi... #ChashmeBuddoor pic.twitter.com/gnUxRPCFMY"

- shubhra gupta (@shubhragupta) March 7, 2013
#SaeedJaffrey, the versatile & one of the most handsome actor of Indian film industry. RIP pic.twitter.com/S7lUBLcTfs

- Gaurav Pandhi (@GauravPandhi) November 16, 2015
A brilliant actor, superb dialogue delivery and many memorable roles RIP #SaeedJaffrey pic.twitter.com/GcB6RldyUq

- Akhil Bhalla (@akhilbhalla) November 16, 2015
Great film & great literature: #SatyajitRay's "Chess Players" from #Premchand story w/ #SanjeevKumar & #SaeedJaffrey pic.twitter.com/f5TwSiYa5Y

- PlanetRead (@PlanetRead) May 2, 2015
Veteran actor #SaeedJaffrey passes away https://t.co/Mtmz1xazNa pic.twitter.com/GtG48BkA1h

- liveIndia (@LIVEINDIA_NEWS) November 16, 2015