Ami Sheth
| Updated on: 11 February 2017, 5:42 IST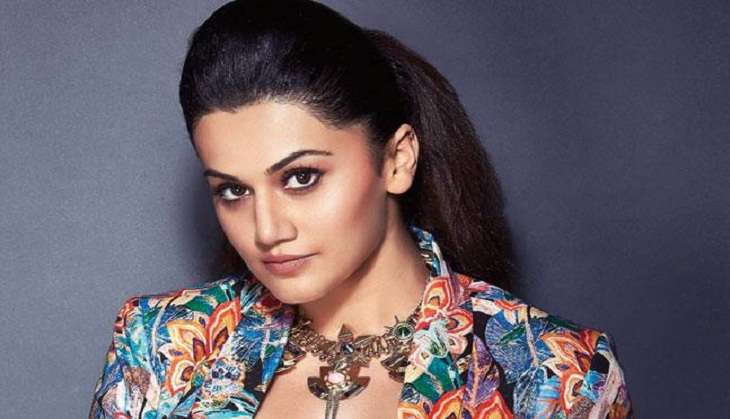 After showing her acting talent in films like Baby and Pink, actress Taapsee Pannu is now ready with two films releasing this month.
"Runninshaadi.com is very special to me as it got me introduced to Shoojit (Sircar) da because of which I got Pink. It plays a very big role in my career. This was my second film," says Taapsee.
After working in southern films, Taapsee confesses of feeling awkward speaking in Hindi in front of the camera "When I got to work in this film (Runningshaadi.com), I just had to be myself. Amit (Roy) is the one who opened me as an actor, and that's why you see me the way I was in 'Baby' and 'Pink'. I owe a lot to this film and (Amit) Roy for making me the actor that I am today. I can guarantee you that if you have cried with me (in Pink) you will laugh with me when you see this film," she further ads.
On personal front, Taapsee is open about the men in the industry she has been attracted to..."From the time I am watching (Hindi) films I have had a crush on John Abraham and Hrithik Roshan. There are many more but I remember these two as I find them very good looking. Slowly when I started growing up my crush was Sam Claflin."
Taapsee's Runningshaadi.com is interestingly clashing with another film of hers, The Ghazi Attack. "I am proud to be a part of it, but in that film I have more or less a special appearance. I have played a small role of a Bangladeshi refugee. There was not much I could do as there was not much for a female to do. Women were not allowed inside a submarine and this film is more or less supposed to be shot inside a submarine. The makers told me, "This is the only role...if you want to take it, it will be great but this is all we have to offer." I grabbed it because it's the kind of film I would be proud to be part of. But in Runningshaadi I have a full fledged role, so; I don't think I am really worried about any competition."
When asked about competing with Akshay Kumar by giving back-to-back releases, the actress laughs "That's overwhelming but I must say that because I worked with him in two films, I have learnt to work hard. If not five films like him, but even if I can manage two films, I would be very happy," she says.