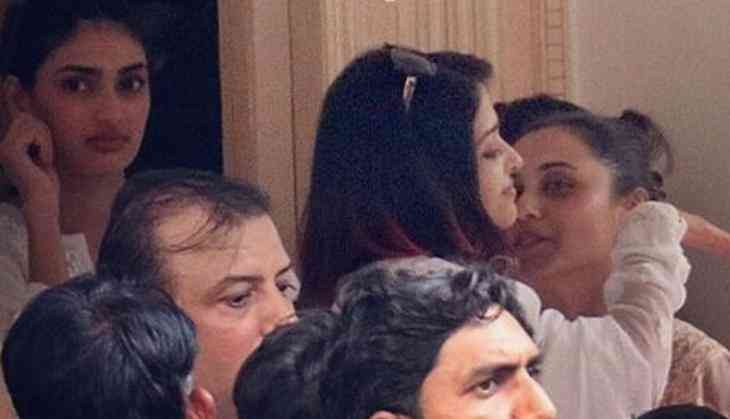 Bollywood celebrities like Amitabh Bachchan came to attend the funeral of the famous filmmaker Raj Kapoor's wife Krishna Raj Kapoor. Krishna Raj Kapoor passed away at the age of 87 on a Monday morning due to cardiac arrest. Her mortals were taken to her Chembur bungalow where the Bollywood celebrities went to pay condolences.
In between all Aishwarya Rai Bachchan went to pay condolences with her mother Vrinda Rai and when she was coming back from the bungalow, Bollywood actress Rani Mukerji was standing outside. While looking at each other they hugged each other with a broad smile. As they both hugged each other all the media cameras captured them hugging.
Actually, the fight between Rani Mukerji and Aishwarya Rai started during the shooting of Chalte Chalte in 2003, when Rani Mukerji replaced Aishwarya from the film because Salman Khan troubled the director of the film a lot. Besides, this the reports were also that Abhishek Bachchan and Rani Mukerji were dating each other during the shooting of Bunty Aur Babli but after two years of the film, Abhishek got married to Aishwarya Rai.
Also Read - After Brahmastra, Ranbir Kapoor and Alia Bhatt to collaborate with Aamir Khan in Ayan Mukerji's next film for Karan Johar