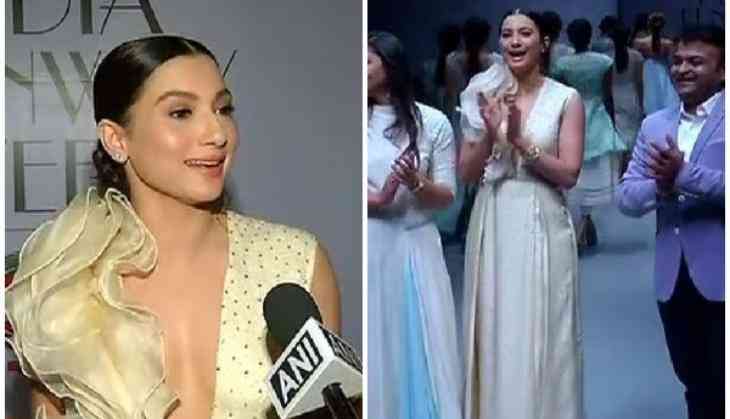 The beautiful and gorgeous actress of B-town Gauhar Khan is very active on social media.
Recently, an Instagram user commented on her picture post India's thumping victory over Pakistan and called her a Pakistani.
The comment of the user was, "Afsos ki baat hai ki kal aapki team match haar gyi. Koi nhi. Next baar milega mauka 🙂 @gauaharkhan."
The post to which the user had commented was about a jacket as the Big-Boss winner Gauhar Khan wrote "Thank u @kaprapan for this lovely jacket. Absolutely love it. #pearls are my favs, coz gauahar means a pearl!!!! … Oh thaaaaaaaaaankkk you uuuu @devs213 #mine."
While most of the fans were appreciating her outfit and complementing her, but one of her fan Rohit Raj displayed disrespectful attitude towards her.
The fan was indirectly calling her a Pakistani.
The Begum Jaan actress had a perfect mouth-shutting reply to the hater as she declared that she is a proud Indian.
"@rohit.raj.3 meri country toh India hai, I think u are from another planet…I love all countries n respect all religions…but small minded people like u won't get it!!! Will pray for ur kind," she wrote.
Well that's an awesome reply to such haters, isn't it?
Rohit Raj the follower of the actress was trying to troll her, by calling her a Pakistani actress, but later Gauhar had the last laugh.