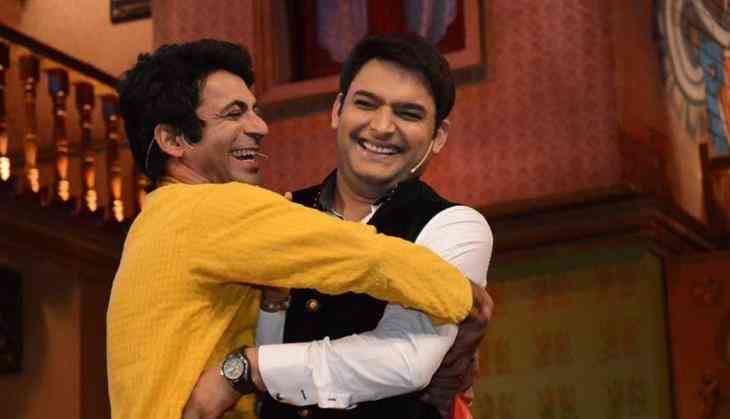 Finally Good news! Kapil Sharma, Sunil Grover to reunite for this show
Indian television comedy kings Kapil Sharma and Sunil Grover started working together and eventually became friends. Later in the life, after facing different things professionally, things got changed with both of them and their bond got affected. The fall out of both the stars became the talk of the town overnight and there was a time when it looked like that now they will never come back together.
Even when the Australian flight chapter came out, Kapil apologised to Sunil on social media platform but Sunil clearly denied and said he will not forgive him. One hand, Sunil Grover has spoken much about the controversy, now Kapil Sharma once again has hinted working with Sunil Grover.
In a recent conversation with the media, Kapil Sharma hinted that once Sunil Grover comes back from Canada, they will start working on the show.
Paji @WhoSunilGrover sry if I hurt u unintentionally.u knw vry well how much I luv u. M also upset .love n regards always:)

— KAPIL (@KapilSharmaK9) March 20, 2017
Kapil Sharma said, "I have not met Sunil since a long time, but we are connected to chat messages. As soon he comes back, we will surely meet and discuss a show with him. Hopefully, we will be back together and other cast members are already on board."
From a friend, with love @KapilSharmaK9 pic.twitter.com/2c7uQ5jqH5

— Sunil Grover (@WhoSunilGrover) March 21, 2017
He further added, "In starting when we were doing one show that time Sunil left us in the midst for his own show (Mad in India), I was very upset with him that time. Then again he did the same and left the show, I was upset why he didn't talk to me before doing this. Well now, I hope the things are sort out and we will be back soon."
Kapil also rubbished all the rumours in which it was being said that the channel Sony has axed their show The Kapil Sharma Show. Kapil said, it is not like this and we are coming back again for the same channel with a new concept, new show.