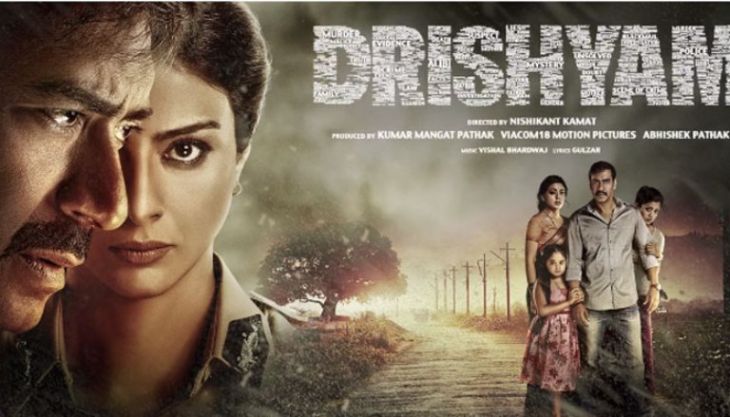 Synopsis
Ajay Devgn plays a man trying to outsmart the law to protect his family
A remake of the Malayalam Drishyam, the setup is long and tedious
Tabu, as an investigating cop, drives a dramatic second half
The film raises questions about the diminishing trust in police and legal system
Despite not being an original idea, the film is fairly watchable
Directed by Nishikant Kamat, Drishyam is an official remake of Jeethu Joseph's Malayalam Mohanlal-starrer of the same name, which was also remade by Joseph into a Tamil version, Papanasam, starring Kamal Hassan.
Before this sounds like another Bollywood game of Chinese Whispers to you (like Gabbar Is Back this year), it's also apparent that - irrespective of what Joseph has declared - his 'original' was unofficially inspired by Japanese author Keigo Higashino's book The Devotion of Suspect X. He may have smartly twisted the specifics of the book into a barely recognizable Indian-ized version of events; but just like bad exists only because there's a subjective interpretation of good, the fact remains that if the book didn't exist, Drishyam - or its 100 versions of it - wouldn't either. It's a shame, really, because his derived interpretation is fairly captivating.
Film takes 70 minutes to come to the point
Mr. Kamat, who allows his blockbuster vices from Force and Lai Bhaari to spill into his latest, does a decent job for exactly half of the 160 minutes. The first half, entirely a simplistic train-wreck of introductions, is comprised of family camaraderie that is perhaps too loyal to Joseph's South special.
A culture-specific adaptation may have made things more palatable: Vijay Salgaonkar (Devgn), who resembles Bajirao Singham, is a Goa cable operator. As per happy-family tradition, he is illiterate, but derives much education from late-night film binges. If all movie buffs learned from the cinema they watched, I'd be a self-taught astronaut by now.
Here, it's also established that he doesn't answer phone calls - this, despite having a wife and two daughters back home. A responsible Indian male, then.This is the grating part; 'teen'daughter (Dutta) looks older than her mother (Shriya Saran; melodramatic), particularly in her school uniform. And this mother is a wife who doesn't mind that her sex life is driven by Vijay's midnight glimpses of Sunny Leone songs.
Kamat takes way too long to set it up - from these frivolous portions, to establishing rotten cops like Gaitonde (Sawant). Conflict arrives in the name of Sam, a rich pervert who threatens to derail their lives with an MMS of daughter Salgaonkar. One filmy night (thunder, lightning), he is killed in a contrived face off.
The rest of the film isn't a suspense drama about identities, but a cat-and-mouse game between the guilty family and investigating cops - led by Goa Chief Deshmukh (Tabu), who also happens to be Sam's doting mother.
This deviation from the book, by making it a personal battle between two sets of parents, forms a more relatable core - one founded on unconditional love and irrational impulse. It also raises questions about the diminishing trust in today's police and legal system. That the family chooses to cover up their tracks so painstakingly, just to avoid the politics of a potential scandal, is a believable - if slightly overwrought - scenario.
What's not believable is Vijay's homage to Indian cinema, his crime-author ability to construct this saga plainly from facile movie views. Surely, desi detective dramas don't deserve that much credit.
Characters are constructed well; rescue ambitious second half
Most cinematic acts of self-defense seem to involve rich perpetrators and poor middle-class victims. This inherent bias against wealth is fortunately cut short because of the way Deshmukh and her husband (Rajat Kapoor) are presented. They aren't opulent caricatures - just decent folks caught in a murky situation - and the makers don't judge their decisions, which often border on branded antagonism.
Tabu's is a complex character, torn between professional protocol and an intensely personal loss. She represents the grey in a film that refuses to be black or white. Even as her initial eye rolling gives way to intelligent formulation, she delves deeper, and banks upon the viewers' reading of the case. Thankfully, the filmmaker does away with her ill-fitting uniform early on. Kamat, whose Mumbai Meri Jaan is a personal favourite, gets a tad carried away with her persona.
Booming music and slow-mo strides don't quite fit into cinematographer Avinash Arun's quaint Goa portrait. He largely depends on narrative throwbacks and, at times, abrupt cutting of sequences to introduce the element of conceit -the film's primary storytelling tool. It's not all neat, but makes for a dramatic final act with exaggerated reveals.
Interesting story, but not entirely original
If only our filmmakers' devotion to originality were stronger, critics wouldn't have to dilute their judgments with ethical undercurrents. If you're comfortable(or unaware) about the ambiguous origins of Drishyam, buy half a ticket to watch the second half. Or perhaps ask your friend's friend to watch it and interpret the plot to you.