In the recent episode of Koffee With Karan season 6, we saw siblings Arjun Kapoor and Janhvi Kapoor gracing the couch of Karan Johar's show. They had fun on the show and even in-game rounds they were like totally siblings who were fighting to win the games. In one of the game rounds, Karan asked both Arjun and Janhvi to call anyone from the Kapoor family and says "Hey Karan, It's Me?"
Well, in this round, Janhvi called Anshula Kapoor and asked her to say the sentence. But as you know Arjun and Anshula the real siblings are very close to each other and her Arjun played a smart game. Arjun asked Anshula if she said the same then he will not come to the home. While on the other hand, Arjun called his father Boney Kapoor and asked him to say the sentence. While Anshula was stuck in promises, Boney Kapoor said the sentence and Arjun won the round.
Janhvi was quite upset with it and, she in the whole episode asked why she (Anshula) didn't say 'Hey Karan' It's Me'. However, just after the day of that episode, Janhvi shared one picture of her with Anshula on social media Instagram. She even gave a caption, "#tbt to the first but clearly not the last roller coaster we'll be on together. I love you".
Commenting to that post fans started asking why Anshula didn't help her in the game round. Replying to it, Janhvi said, "she couldn't hear me and asked me after the show got over that that phone call was about...."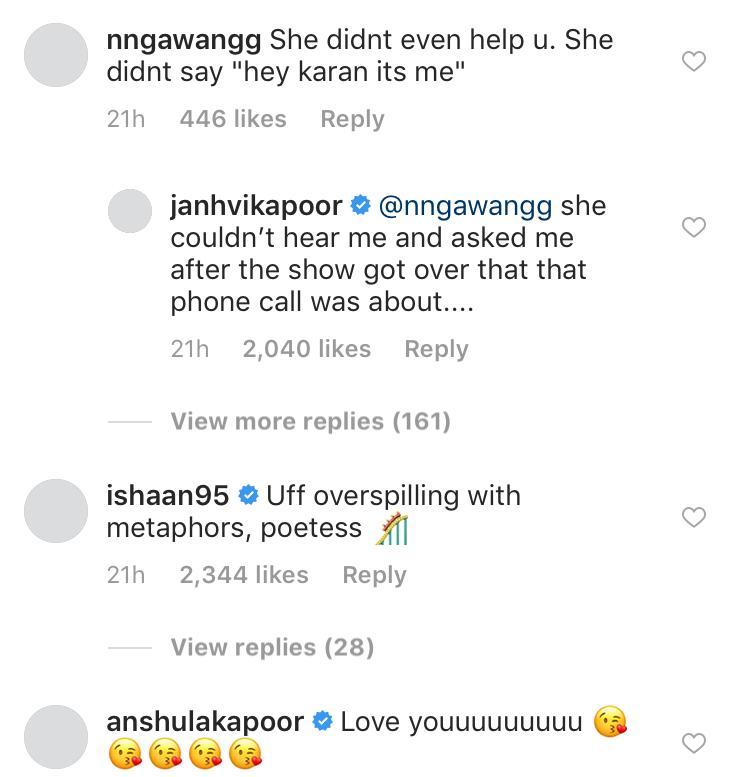 Anshula Janhvi Arjun
However, responding to this post of Janhvi Kapoor, Anshula Kapoor replied 'Love Youuuuuu and kisses.
Also Read - 3 Years Of Tamasha: Director Imtiaz Ali told how the most loved scene featuring Ranbir Kapoor and Deepika Padukone was shot; video inside