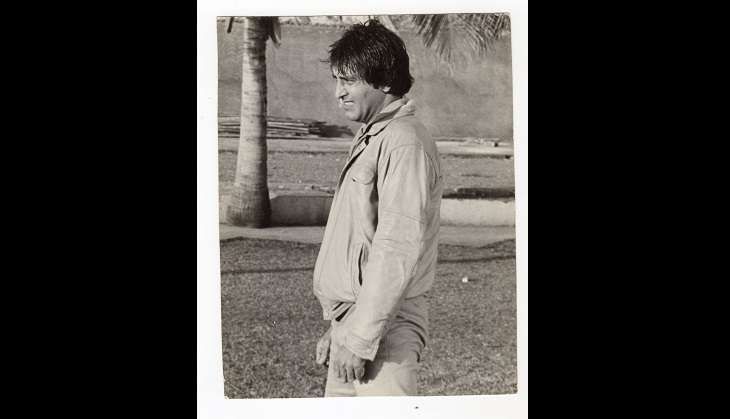 I shot this picture of Vinod Khanna on the sets of his comeback film, the Mukul Anand-directed Insaaf in 1986. I would drop in often on Dimple Kapadia at the shoot and by default come across Vinod Khanna.
Strangely, while I have interviewed all of Vinod's contemporaries - Rajesh Khanna, Shatrughan Sinha, Dharmendra, Jeetendra, and of course Amitabh -- I couldn't put a tick against Vinod's name in the list of people I have interviewed because firstly he was away on a five-year break when I joined film journalism and later had an impregnable wall of reserve around him. When I would pay a visit to veteran Nadiraji at her residence near the Mahalaxmi Mandir, she would reminisce about the films she did with Vinod (Pyar Ka Rishta, Amar Akbar Anthony) and go into raptures about the hot and handsome star. She was not the only one. When the megahit Mera Gaon Mera Desh was released (who can forget the Laxmi Chhaya chartbuster, 'Maar diya jaaye ki chhod diya jaaye') women went gaga over the fact that two of the most handsome He-men of the film industry, Vinod Khanna and Dharmendra, were sharing screen space.
At the close of the 1980s, I had planned a cover story in Movie magazine with Vinod. For the interview, Vinod invited my reporter to a farmhouse on the outskirts of Mumbai where he was shooting for Karnaama, a film directed by his friend Goli (villain Ranjeet). The interview was a cakewalk but arranging the cover photo-shoot to be held at lensman Gautam Rajadhyaksha's house proved to be a challenge. Co-ordinating this shoot was the only real interaction I have had with Vinod, and it gave me a lot of acidity because the actor was a slippery customer. However, when the cover was finally shot (phew!) and the magazine hit the stands, it drew gasps of approbation from readers, especially the girls. Vinod looked dashingly debonair in a moody mid-shot sporting a bright yellow shirt.
His looks had always been the ace up his rolled-up sleeve. Vinod was introduced by Sunil Dutt as a villain in Man Ka Meet (1968), a film primarily designed to launch Sunil Dutt's brother Som. But Vinod, all brawn and muscle, coupled with a sexy cleft on his chin, eclipsed Som and soon became a hugely popular villain. He graduated to become a hero with the Gulzar-directed Mere Apne (1972) and went on to star in solo successes like Inkaar and Hatyara. He did innumerable two-hero films with Rajesh Khanna, Shatrughan Sinha and a string of superhits with Amitabh Bachchan (Amar Akbar Anthony, Muqaddar ka Sikander etc).
At the peak of his popularity, Vinod shocked everyone by forsaking fame and films to become a gardener in Rajneesh's ashram in Pune. But like Raj Khosla, who directed Vinod Khanna in Mera Gaon Mera Desh and Main Tulsi Tere Angan Ki, once said, "No one quits the industry; the industry quits people." After a long sabbatical, Vinod gave up his white robes and with movies like Insaaf and Chaandni got back into his jeans and tees.
-- Dinesh Raheja (Editor - Bollywood News Service)