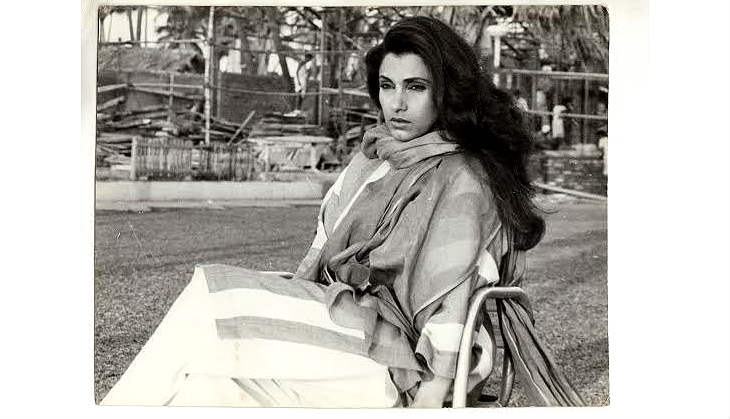 This picture of the gorgeous, auburn-haired Dimple Kapadia was clicked by me in 1986 on the lawns of Sun N Sand while she was waiting for Mukul Anand to set up the shot for Insaaf, a film that marked the return of actor Vinod Khanna after a long stint at the Rajneesh Ashram and was Dimple's first post-comeback hit.
Dimple was one of my favourites. Not only was she a photographer's dream but she also had a crackling sense of humour and could keep you entertained with an endless stream of witticisms and quotes. She could take liberties with me - and she did! She had nicknamed me Mr Walrus because she felt I had a thick moustache that drooped on both sides, with the right side being longer.
Her candour is legendary. I remember motoring down to attend the grand mahurat of Subhash Ghai's Ram Lakhan at Fariyas Hotel, Lonavala. Dimple saw me from afar and hollered, "Where are your spectacles?" Since I am not accustomed to being the cynosure of all eyes, I didn't shout back but resorted to gesturing that I was wearing lenses. She shot back, "You are wearing contact lenses? At least you should have done something about your dark circles before that!" Poonam Sinha (Shatru's wife and Ghai's rakhi sister), who was standing and making casual conversation with me, was most entertained.
After the release of Ram Lakhan, Dimple was badgered by a reporter for a quote on why she did a role which didn't have much substance. Dimple asked me to think of something witty. I joked, "Tell the magazine that you got paid six lakh to throw your hair in the film." We laughed; and I forgot about it. The next month, however, when I met her, she told me to pick up the magazine. She guffawed, "The quote 'I was paid six lakh to throw my hair' has made it to the cover!"
When I look back at the incident I am about to narrate, let me admit, I am a trifle embarrassed. When I bought my first car, a Maruti, I drove down to Dimple's Juhu bungalow and asked her to come to the front yard. When she did, I told her, "This is the first car I have bought with my hard-earned money."
-- Sourced from Dinesh Raheja, Bollywood News Service