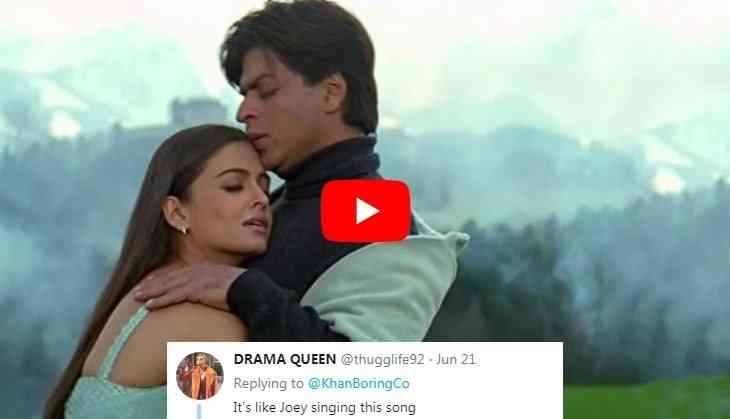 Bollywood's King Khan aka Shah Rukh Khan or SRK, one of the most versatile actor in the film industry. SRK has given numerous super hit film which has broken several box office records.
Even he is known for his uncountable range of acting in movies. From romantic films to action thriller films, SRK proved himself why he is called King of Bollywood.
Also, on June 25th, 2019, Raees star has completed his 27 years in the film industry. SRK has done at least 87 films in his career either in Hindi, English, Tamil, Konkani and Telugu language.
But, we have never seen our 'King of Romance' in any Hollywood films. Just imagine, if SRK spoke Chinese then how he would sounds?
Well, no worry, you all are lucky as he would not only speak Chinese but will sing a song for all of his fans.
A lip-syncing video of SRK is doing the rounds on social media in which he can be seen singing all the time super hit song, ' Ankhein Khuli Hon Ya Hon Bandh', from the blockbuster film 'Mohabbatein' in Chinese.
Don't believe us? Check out yourself:
The Chinese version of "ankhain khuli hon ya hon band" is the most legendary video ever uploaded on the internet. Always lifts my mood.
Posting it here again so it never dies. pic.twitter.com/uZC8MZF28D

— Khan Boring Company (@KhanBoringCo) June 21, 2019
Well, the video is perfectly dubbed by SRK's fans.

Meanwhile, it has been surfaced everywhere and garnered thousands of views, likes, and comments.

Check out some reactions:


Wow SRK rocks even in mandarin 😬😅

— Anthony H (@anthony2006440) June 23, 2019
I swear he just said Dalai Lama .. in there somewhere!!!

— りちゃ (@folkmetal) June 22, 2019
I heard PING PONG KI PAAKA PODIDAAAA !!!

— ZIDDI HINDUSTAANI (@BJPLUVSCONGRES) June 23, 2019
Some parts are sound alike but quite a lot of it are Chinese lol, there's even a Chinese tongue twister in it

— I'm a trash (@FujoshiRei) June 23, 2019
The only thing I find funny is all those people suddenly breaking into song and dance in the middle of their ordinary lives. Hilarious.

— Sairam Subramani (@sairamreddevil) June 23, 2019
🙌🏻😂 pic.twitter.com/qJwgpknEoX

— ⚡ (@luthfinest_) June 23, 2019
Lovely 😍😍😍😍

— Harry CR7 (@CR7sHarry) June 23, 2019
Do you like this recreation done by SRK's fans? Comment..
Also Read: Don 3 won't be made! Farhan Akhtar-Shah Rukh Khan end Don series with two parts?