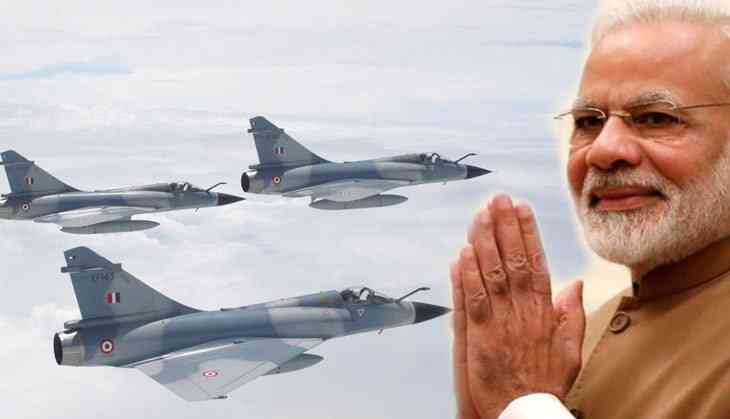 The Bollywood fans have started reacting to the most heroic surgical strike of Indian Air Force against Jaish-E-Mohammed at Kashmir in Pakistan. The fans have even called it the best revenge till date. Not just the fans even the Bollywood actors have started appreciating the Indian government and Indian Air Force for what they have done to return the proud of Indians.
The fans have started stating this Indian Air Force attack as Surgical Strike 2 like what the Indian army did on 29th September 2016 in the reply of Uri attack. Let us tell you that on 14th February, a local terrorist Adil Dar attacked at CRPF truck that resulted as more than 40 soldiers died. The whole nation was totally disappointed with the attack but now this revenge attack has really given an honourable moment for the Nation.
INDIAN Air Force today be like; "If you(PoRki Terrorists) think you're Bad... I'm your Dad" 😉😎
😘 Take that PoRkisTani Terrorists#surgicalstrike2 #IndiaStrikesBack #Balakot #IndianAirForce #Pulwama #56InchRocks #PulwamaRevenge pic.twitter.com/80PWpNlDWj

— Adharsh ஆதர்ஷ் आदर्शः ആദർശ് (@Adharsh_Indian) February 26, 2019
Reprisal against #PulwamaTerrorAttack. Salute to @DefenceMinIndia, all officers and brave soldiers who were directly involved in this deadliest but Proud action. @narendramodi proved to have #56InchRocks by his actions. #surgicalstrike2 #Balakot #IAF pic.twitter.com/WWPdYVaF9m

— Sumant Mahajan (@sumantdmahajan) February 26, 2019
Well Done IAF! #IndianAirForce #Pulwama #airstrike #56InchRocks
We Salute Indian AirForce!
How's the Josh?!
India: Very High Sir!!!
"Indian mirage jets bomb terrorist camp across LoC" https://t.co/gXMq0RaVbO

— Vaibhav Gupta (@vaibhavgupta512) February 26, 2019
How's the Jaish?
Jaish in the Trash Sir 💣
Jai Hind 🇮🇳@majorgauravarya @SirPareshRawal #IndianArmyOurPride #56InchRocks #surgicalstrike2 #AirSurgicalStrikes #balakot #HowIsTheJosh #IAFStrike #IndiaHitsBack #IndianAirforce

— Neet (@Neetusaysthat) February 26, 2019
Pakistan airforce ready for strike #IndianAirForce #56InchRocks pic.twitter.com/cSZuAK6H09

— rahul singh (@InsaneRocksolid) February 26, 2019
How's the Khauff???#56InchRocks

— DEVENDRA PRATAP SINGH (@FearlessSonal) February 26, 2019
After second surgical strike by our India Air Force , 😂😂😂😂😂
How's the josh🇮🇳🇮🇳#IndianAirForce #Surgicalstrike2 #airstrike #56InchRocks pic.twitter.com/CtNcTCE8pF

— Jugal Meena Mau (@Jugalmeenaabvp) February 26, 2019
Imran khan after seeing #IndianAirForce crossed LOC and Destroyed Jaish-Mohammed terrorist camp using 12 Mirage 2000 jets with 1000kg bombs. #Surgicalstrike2 #56InchRocks pic.twitter.com/Gh637By73M

— Prasnna Sahu (@sahuprasnna) February 26, 2019
शोक नही शौर्य पहचान है हमारी #56inchrocks

— RAVINDER YADAV (@169142) February 26, 2019
Some of the fans have started reacting on social media as well, and there is a popular dialogue of recently most loved south film KGF, 'If you think you are bad, I am your dad.' The fans have shared and dedicated this dialogue to the Pakistan army.
Let us tell you that the Bollywood made a film on Surgical Strike took place on 29th September 2016, film Uri - The Surgical Strike. Now the fans have asked for its sequel on Surgical Strike 2.
Also Read - Paresh Rawal on Surgical Strike 2: If anyone asks for proof, we have home delivery bombs also