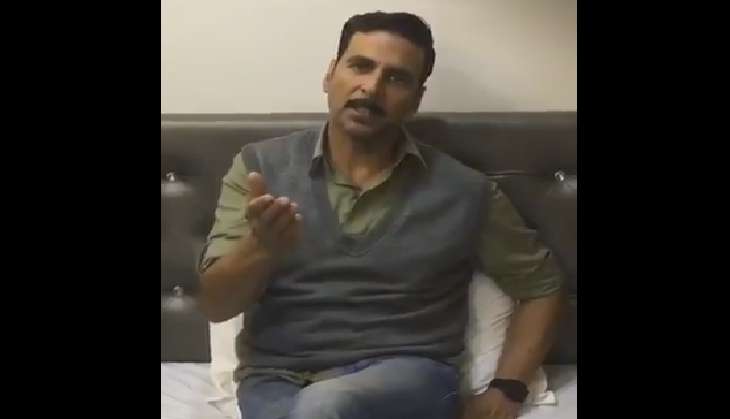 After Akshay Kumar's tweet on Bangalore mass molestation went viral, a lot of industry folks have come forward to condemn the dastardly attack and urge the government to take quick action against the culprits
While addressing the incident, actor Akshay Kumar posted a video on the micro-blogging site.
In the video, Akshay said: "Today I am feeling ashamed of being a human. I came from a small family holiday from Capetown and wished all a Happy New Year. While walking through airport, I was carrying my daughter in my arms and suddenly saw one news on TV where I saw few people's molestation act.
"After watching that don't know how you all felt, but I have lost my temper. Even if I was not the father of a daughter, I will say that a society, which can't respect its women, has no right to call itself a human society."
Akshay shared that the "worst part is that few people have hold status of justifying this molestation act."
"Why she donned less clothes? Why she went outside in night? Such people should feel ashamed. It's not the girls' clothes, it's your mentality that is short," he said.
While re-tweeting Akshay's post, actor Arjun Kapoor said: He's spoken what's on everyone's mind... Bangalore is just one of the many incidents that happen everyday and yet nothing's being done about it.
While actress Alia Bhatt called it a "disgusting" act, Kriti Sanon said that "girls must learn some form of self defence.
Earlier Shekhar Kapur and Farhan Akhtar and others have strongly condemned the molestation of a young woman on New Year's day here.The horrifying incident came to light on Tuesday night when a resident of the area gave the police video footage captured by a CCTV camera he had installed at his house.
Four people have been arrested in the molestation case, police said.
After the video footage went viral, various Bollywood celebrities started condemning the "shameful" incident.
Veteran filmmaker Shekhar Kapur tweeted: "When will it stop? How long will our society go on blaming women for assaults upon them? Bengaluru shame."
Actor-filmmaker Farhan Akhtar called it "gender terrorism".
"This is not molestation. It's gender terrorism. empowered by the misogynistic mentality of powers-that-be. Wake up," he tweeted.
Veteran screenwriter Salim Khan urged Prime Minister Narendra Modi to address the issue immediately."Honourable PM Narendra bhai, you have time and again mentioned that India's youth will drive the country forward. It's a shame what the youth have done in Bengaluru. Such acts are happening repeatedly all over. We were also young once, but never have such things happened," Salim tweeted on Tuesday.
Actress Swara Bhaskar said: There is a problem with Indian parenting.. lets wake up to it and change it. Bangalore.