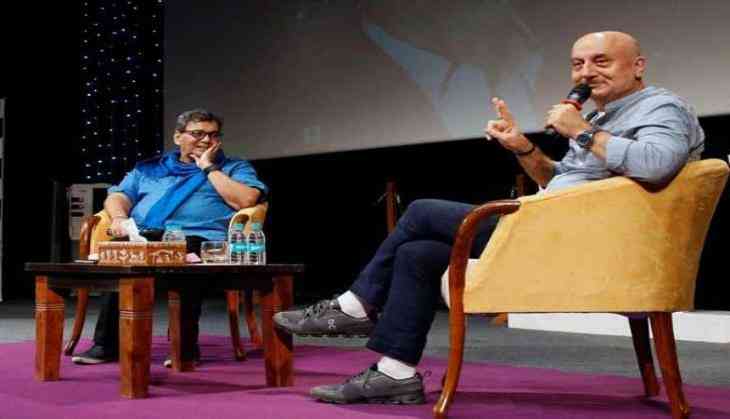 "It is only practice, persuasion and preservation that enables an ordinary person to become an extraordinary man,"says Anupam Kher to a crowd of about 600 students who attended his acting workshop.
Having a Padma Bhushan, and 500 films in his repertoire, the legendary actor shared anecdotes from his 35 years spent in the film industry. From winning a gold medal on graduating from National School of Drama after three years of training there, to becoming a star by getting an opportunity to play a pivotal role in Subhash Ghai's film 'Karma', the actor gave valuable insights on his successful journey.
A non-believer of luck, Kher attributed his success to seeking, exploring and hard work.
He emphasized the importance of breathing techniques on an actor's voice, and stated yoga and meditation to be the most important elements in an actor's life as they help control the body, mind and soul.
Command over the Hindi language is also essential for an actor in the Hindi language films, plays and television, according to Kher.
The workshop was held on the inauguration of the sixth season of the 5th Veda cultural hub at Whistling Woods International (WWI) campus.
Subhash Ghai, Founder and Chairman, WWI, commenting on the occasion, said "When an actor inspires a director, then magic is created on celluloid. It then becomes imperative for the director to highlight such immense talent. Anupam Kher inspired me to write the best lines for him in Karma and Saudagar."
He acknowledged Kher as having a "wealth of knowledge about cinema and life", and also went on to enact a scene with him on how Kher got the role of Dr. Dang in his film.
Anupam Kher, during his interaction with Ghai, pointed out why artists from small towns turn out to be the finest in their field, "Most children belonging to small town grow up with imaginations, while children in cities grow with targets and calculations."
On being asked of his biggest strength, Kher quipped, "I don't take myself seriously".
Anupam Kher also answered questions of more than 80 acting students during the Q and A session at WWI.
-ANI