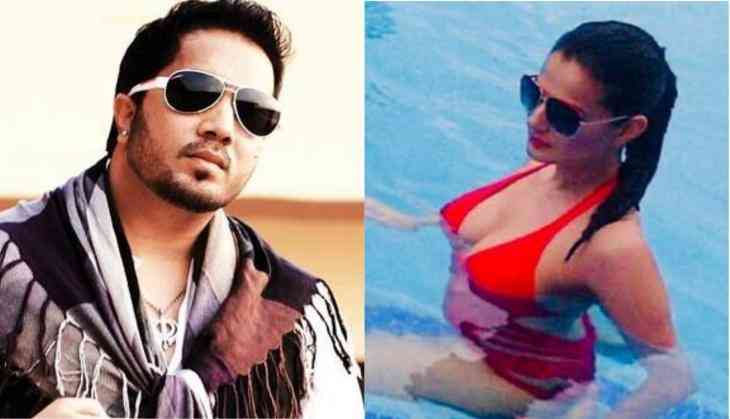 Bollywood actress Ameesha Patel is facing a downfall in her acting career. However, she is very active on social media sites. She keeps sharing her pics on her Twitter and Instagram profile.
However, the actress has to face harsh comment and she usual get trolled by fans instead of being praised. Although we are not surprised to know about celebs being trolled and mocked by netizens.
Ameesha, recently shared her sexy and stunning pic in a swimsuit on her official Twitter with cation, "Best the heat .. swim away "
Best the heat .. swim away 💋💋 pic.twitter.com/1kYDweSPQf

— ameesha patel (@ameesha_patel) March 3, 2018
Well, here's a typo-mistake, that Ameesha must have meant 'Best' instead of 'Best' and the one who noticed her was none other than, Mika Singh.
In response to Ameesha's tweet, Mika wrote, "I wanna join you "
I wanna join you 🤗 https://t.co/FE3StXhQEW

— King Mika Singh (@MikaSingh) March 4, 2018
However, the netizens were quite confused that the tweet is made by Mika or by some parody account. After being confirmed they trolled him and called him 'Tharki'.
Check out some of the harsh comment by Twitterati's:
App toh pehle se hi tharki ho....

😈👹

— i love INDIA (@87riyazS) March 4, 2018
Kyu be* Rakhi Sawant ab achhi ni lagti kya😂😂

— Saurabh Sinsinwar (@sin_100rabh) March 4, 2018
This is the problem just here . When men think they can get away by making callous statements.

— Carpe Diem (@shwetz5) March 4, 2018
अबे ओ दल्ले वो राखी सावंत नही है पटेलन है डण्डा घुसेड़ देगी

— Indrajeet patil (@inderpatil09) March 4, 2018