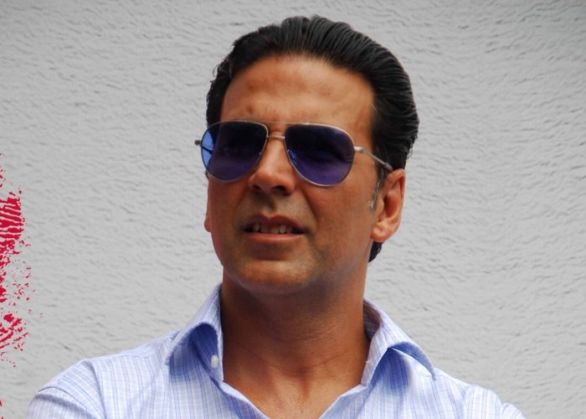 Back to work after two months of holiday, Bollywood actor Akshay Kumar is looking refreshed and toned, and full of energy. He seems charged about his next film Brothers and talks about his love for martial arts, why he feels age does not matter and what he thinks of his wife, actress Twinkle Khanna as a writer.
Your new film Brothers is about the martial arts - you must have been in a happy space because that's your special area of interest.
Yes, it's about martial art which have always been my first love ... I always call myself a stuntman first and an actor second. In the film, Siddharth and I play mixed martial art students; and though we are brothers, we hate each other and finally face off in the ring.
Brothers has all kinds of martial arts - boxing, wrestling, jiu-jitsu, taekwondo, karate. I am so glad that people have started making films on martial arts and self defence ... it is the need of the hour. I always say the government should make it compulsory for every student to learn martial arts in school. In Singapore, the crime rate is low because everybody has to do three years of self defense.
Do you remember why you learnt martial arts?
I learnt it because of a girl. I had a friend who knew karate because of which he was able to impress her and I was left behind. I decided to learn martial art but once I started I began loving martial arts more than the girl!
What has been your training regimen for this film?
I have trained for four months for this film and it's been very, very hard because more important than me punching, was the conditioning of the body. The punches you see on screen are 60 percent real, we have hit each other because that's what we have been taught.
Did all that aggression between Siddharth and you onscreen transfer itself off screen?
He reminds me quite a lot of myself. He is also from Delhi, his father is from the army, he is tall and he is into fitness, he gets up early, sleeps early and he is Punjabi.
Incidentally, do you consider anyone your brother?
I have my best friend ... he is like a brother to me.
Why has it taken you so long to work with Karan Johar?
You do a film with Dharma productions only when you are offered something.
Wrestling and boxing seems to have become a Bollywood trend - Salman Khan is doing Sultan and Aamir is doing Dangal.
I think it's very good that sports are taking a great part in films. And not only cricket but other sports as well like kabbadi, hockey as well. I wouldn't be surprised if one day mix martial art comes in like IPL.
Did you encourage your son Aarav to acquire a black belt?
Firstly, he didn't tell me; I told him you have to go to a karate class. However, I didn't groom him. I can teach him since I am a black belt myself but children always think that they can learn from someone else. A child always says, 'Dad you don't know anything'. According to them, I don't know anything.
Romance seems to have been sidelined in your recent films like Baby, Gabbar and Holiday. Do you miss romancing heroines?
I will be doing Namaste England and that's a full romantic film. I also have some romantic scenes in Brothers.
How different is Singh is Bling from Singh is King?
I am trying to put the trailer of Singh is Bling along with Brothers. It is not a sequel, but yes I am playing a Sardarji in the film.
What is the scene with Houseful 3?
I will start the shoot for Houseful 3 in one-and-a-half months.
What is your opinion of wife Twinkle's columns?
She is wonderful and entertaining, she always makes a point and I love the way she writes.
Do you read her articles?
I correct her articles.
Of late, you have let the grey show in your beard and are sporting a salt and pepper look. Comment.
Why hide anything? It is my beard and it is my age ... and I am proud of my age. If my film requires it, I colour it black. I get shocked when people say 'You are the first actor in the industry to come out in the open with a salt and pepper look.' Does George Clooney hide his age? Age does not matter, just go ahead and do whatever you like.
- Bollywood News Services