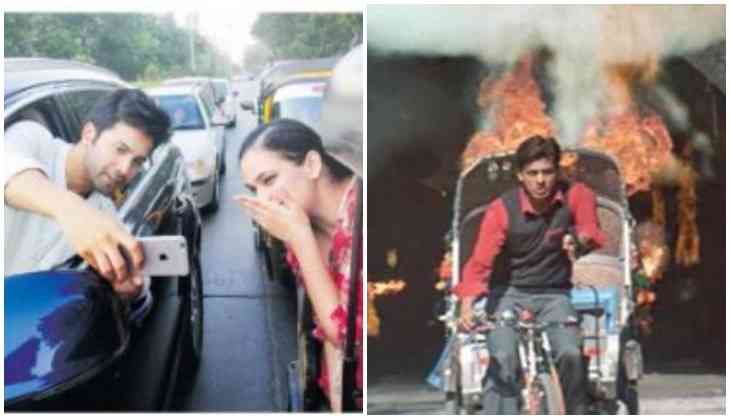 After Varun Dhawan, fans suggested others star's name to Mumbai Police for e-challan
No Doubt Varun Dhawan is the most successful star in the current generation and after his last released film Judwaa 2's performance at the box office, he has got the official superstar tag now. Recently the star came into the discussions for all the wrong reasons and his recent incident that has been noticed by Mumbai Police has become a hot topic of discussions.
Recently he came into the bad limelight when he posed on the redlight to take a selfie with a fan. Then the Mumbai Police slammed the star and issued an e-challan but the actor immediately took the responsibility, made apologies for it. While the conversation with Mumbai Police of the actor got noticed a lot and now fans even appreciated Varun for accepting his mistake.
.@Varun_dvn These adventures surely work on D silver screen but certainly not on the roads of Mumbai! U have risked ur life,ur admirer's & few others. V expect better from a responsible Mumbaikar & youth icon like U! An E-Challan is on d way 2 ur home. Next time, V will B harsher pic.twitter.com/YmdytxspGY

— Mumbai Police (@MumbaiPolice) November 23, 2017
My apologies 🙏 Our cars weren't moving since we were at a traffic signal and I didn't want to hurt the sentiment of a fan but next time I'll keep safety in mind and won't encourage this. https://t.co/MEJk56EksG

— Varun Dhawan (@Varun_dvn) November 23, 2017
But it looks like, that the fans even have decided to take a dig at Mumbai Police also for issuing e-challan to the actor. The fans have started suggesting other stars name to Mumbai Police for issuing e-challan to them also.
Here is how Twitterati reacted on the whole issue:-
inko kaun bhejega e-challan bina helmet ke liye? pic.twitter.com/ZjrqFKwlV0

— Secret Santa (@Secret_Saanta) November 23, 2017
Good job Mumbai Police!! I hope @DelhiPolice & @KolkataPolice take note that VIPs aren't exempted from road rules. pic.twitter.com/rtXYcxg5QC

— Saileena (@saileenas) November 23, 2017
इस रिक्शा चालक (srk) को भी पकड़ो दिन भर रिक्शा लेके स्टंट करता है ये pic.twitter.com/UbqRyTc4wR

— kunal #kick (@kunnu_kick) November 23, 2017
Ek challan inka bhi pic.twitter.com/LvKQhX2hac

— Gautam Trivedi (@Gotham3) November 24, 2017
Well it all was just for the fun but Mumbai also take them as lightly, but yes Salman's case was surely something noticeable.