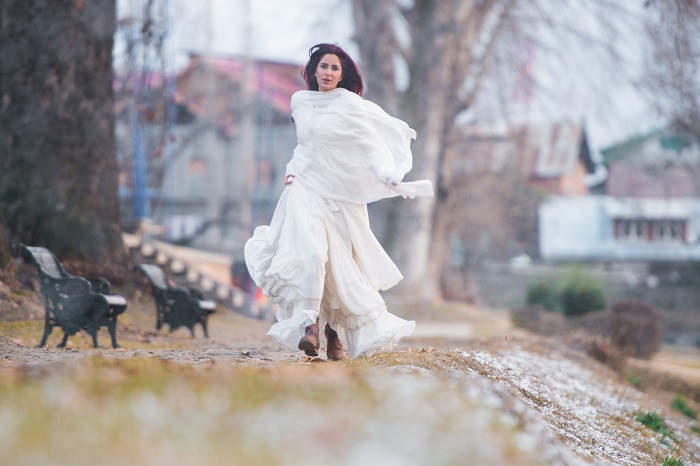 Katrina Kaif has always been vocal about how much she had to struggle to get a break in Bollywood. Not only did the model-turned-actress star in the forgettable Boom, but she also starred in a number of films down south before bagging her first successful film alongside Salman Khan in Maine Pyaar Kyun Kiya.
Both Salman Khan and veteran actress Tabu consider Katrina to be one of the most hardworking actresses in Bollywood.
In a recent interview, Katrina, who will next be seen romancing Aditya Roy Kapoor in Fitoor, opened up about her 11-year-long struggle in Bollywood. She said:
"I consider myself very privileged because any industry where they consider you successful like in our case being star is a big achievement. The work I have done has given me great happiness and lot of joy along with lot of knowledge over the years."
Also Read: Fitoor: Aditya Roy Kapoor says it was easy to romance someone as beautiful as Katrina Kaif
"When I came in the industry I had no training as an actor or a dancer. Later, I took lot of training but initially I had no training and all the knowledge I gained was on the sets while making the films."
The actress, who will also soon be seen with Ranbir Kapoor in Jagga Jasoos revealed that she aims to better her work. She also stressed on the importance of hard work.
"We can always look at the things we can do better and how we can improve That is what life is as you want more, you want it to be greater and better. What I have managed to do so far is very fulfilling".
Also Read: Katrina Kaif, on critics, Firdaus, and her Great Expectations from Fitoor
Katrina confessed that her years of experience had helped her gain confidence.
"When I stand on aa set today , I am much more at peace and I enjoy my work much more. I always worked very hard but maybe I didn't enjoy it as much as I was nervous and had too many things in my mind. But now, after having so much experience and knowledge which is like power, you are in control. If you are in control of doing your work on sets then you enjoy it and that's when the joy and enjoyment comes in."