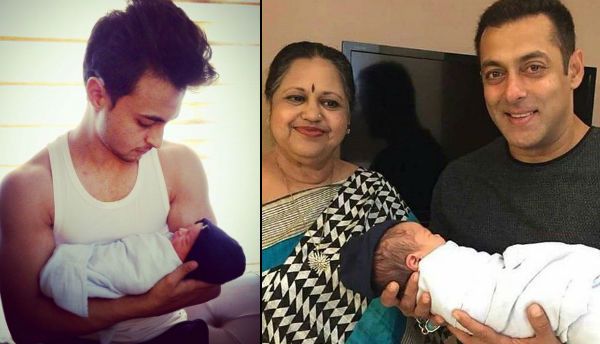 Aayush Sharma and Arpita Khan Sharma became parents a few days back. While the entire Khan khandaan welcomed baby boy Ahil, social media too gushed over the newborn's pictures.
One picture, in particular, has become a fan favourite - the one where Salman Khan is holding his tiny nephew and gazing at him an adorable look.
However, another recently posted picture of the newborn has become the social media favourite. In this picture, new father Aayush Sharma poses with the couple's bundle of joy on Instagram. But what makes it special is that Auyush captioned a sweet message to his little son. This is what it says:
Also read: Arpita Khan Sharma's pre-delivery photoshoot with husband is just adorable
"You are the reason for my pride, but you have also made me humble. You are the reason for my satisfaction, but you have also made me want more for you. You are the reason for my strength, but you have also made me cry tears of joy. Thanks son, for this lovely emotional roller coaster.. Thank you @arpitakhansharma for the best baby in the world. God has been super kind .. Gave me the best wife and the best son. " [sic]
Check out the photo here: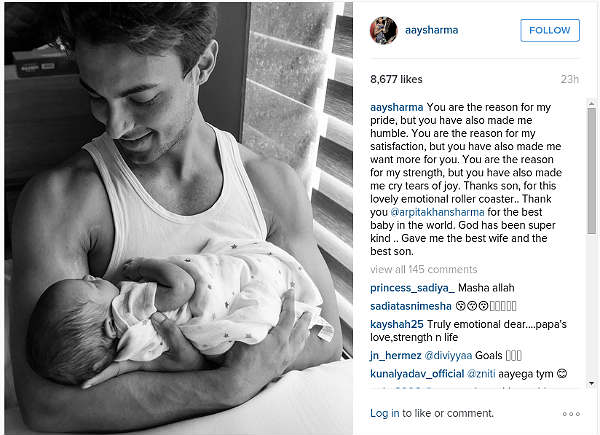 Earlier, Arpita took to Twitter to thank everyone for the good wishes. She gave a special shout out to friends Genelia D Souza, Kanchi Kaul, Saqib Salim, Huma Qureshi, Daisy Shah, Shweta Rohira among others. However, her tweet to actress and friend Priyanka Chopra deserves a look.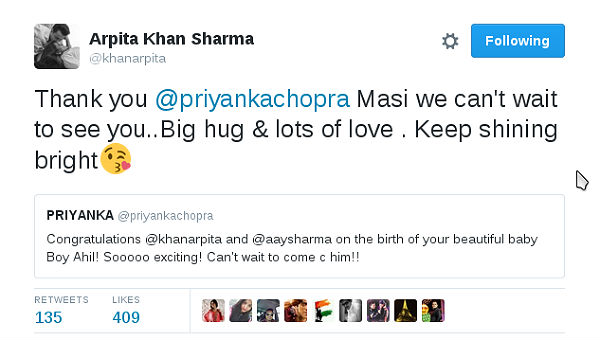 She mentioned how the baby just can't wait to see his 'massi.'
Also read: Here's photo evidence why Raksha Bandhan should indeed be renamed as Salman Khan's day