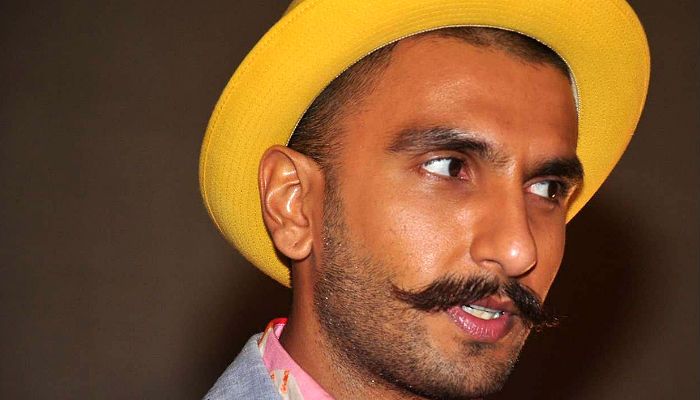 Ranveer Singh is uber, energetic, and quirky. And an actor. Whether on screen or off it, the actor never disappoints his fans and manages to grab the limelight at every event. The actor, who is going to be honoured with Dinanath Mangeshkar Award in April by melody queen Lata Mangeshkar, is also one of the most talked about actors in tinsel town. The actor is currently shooting for YRF's Befikre with Vani Kapoor in Paris.
Ranveer regularly makes statements during interviews and film promotions that are high on the shock factor, entertainment quotient notwithstanding. Check out six such interesting statements made by the actor in recent times that are a reflection of his 'crazy' persona:
Also read: Six most interesting and bold statements by Ranveer Singh Deepika Padukone almost gave the Zee Cine Awards a miss, but Ranveer Singh made sure she didn't!
On endorsing condoms:
"The idea occurred to me and I proactively approached Durex because I believe they have a global legacy and are global leaders in the space of sexual well-being. They make quality products and they have fantastic creatives so they were my first choice. I also believe that I have a certain connect with the youth and so I must leverage it to spread awareness about sex."
Also read: Amitabh Bachchan, Deepika Padukone, Ranveer Singh shine at NDTV Indian of The Year
On losing his virginity at the age of 12:
"I think I was around 12 when I did it. I started everything early, everything! I was way ahead - so much so, that in school all the mothers used to say he (Ranveer) is that rotten apple that's spoiling all our kids. I used to hold sermons with all the boys surrounding me and I used to teach them. They hadn't heard of it and I became the expert because I had started very early."
Photo: IANS
On the importance of love in his life:
"I f****d around a lot till I was 26. But I love being in a relationship. It's the best thing ever. My whole thought process has changed. My priorities have changed. My mindset, my outlook, my worldview - everything is changing."
Also read: Filmfare Awards 2016: Ranveer Singh-Deepika Padukone get emotional, dedicate awards to parents in the audience
On Deepika Padukone:
"Deepika, thank you for making my performance better and my life beautiful".
On his coolest birthday gift:
"A car, a vintage watch. But forget all that. Birthday sex beats everything."
Also read: Happy Ranveer Singh thanks an emotional Deepika Padukone for making his 'life beautiful'
On the casting couch:
He told a leading media house that a casting director made such a proposition to him. He then said:
"Later I got to know what he was interested in. When I said no, he was heartbroken like a jilted lover."