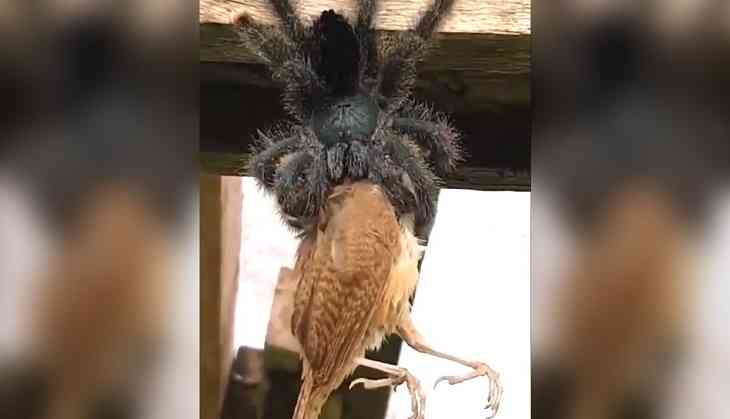 A petrifying video has surfaced the Internet which has left many users stunned. The viral video was originally shared on Reddit. In the disturbing video, a giant, hairy spider hanging from a wooden beam can be seen holding an entire bird in its front legs.
This rare video of a spider devouring a bird grabbed thousands of eyeballs on social media.
According to the Daily Mail, the Reddit user who shared the video initially misidentified the spider as a Goliath bird eater, which is the largest spider in the world.
Later, it was cleared that the spider in the video is believed to be a pink toe tarantula.
See Video:
An Avicularia munching on a bird. pic.twitter.com/IdjQyWMxFZ

— The Dark Side Of Nature (@Darksidevid) September 1, 2020
The above horrifying video has left stunned many viewers online and many people called it 'scary', while many questioned, if it is real or not?
Check out comments:
is this even real? I'm skeptical, it feels staged because how?

— Osayawe Tron (@fortuneatlas) September 1, 2020
Ewwwwww 😬

— Val Kilma 🔰 (@Oseyegex) September 1, 2020
September 1, 2020
that spider is reminding me of a hand

— 🙇🏽‍♂️)GîïØ(🦹🏽‍♂️oker,🦥Shañ"do🦦 (@AIng841) September 1, 2020
Meanwhile, the video has garnered over 3 lakh views on Twitter.
Also Read: Tiger devours cow, drags prey with his mouth; spine-tingling video goes viral