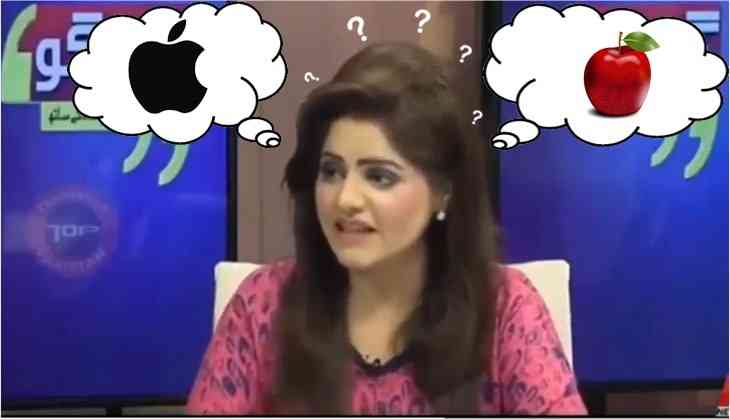 A Pakistani TV anchor has become the latest victim of trollers for her knowledge about Apple Inc. A video of talk show has surfaced the social media in which a female anchor was discussing Pakistan's financial condition with a panelist in the studio.
The video was shared by journalist Naila Inayat on the micro-blogging site and captioned, "Apple business and types of apple, just some regular tv shows in Pakistan.."
In the clip, while discussing about Pakistan's financial budget, the panelist said, "Apple's alone business is more than Pakistan's annual budget."
Anchor thought he was talking about the fruit rather thinking the tech-giant and she replied to him, "Yes, I have heard that even one apple is very expensive."
However, the panelist covered her mistake immediately and said, 'I'm talking about the company Apple Inc." The anchor got embarrassed and laughed to cover her goof-up. Soon after, they preceded the conversation.
But, the video went viral and viewed by over 40,000 users.
Check out the video:
Apple business and types of apple, just some regular tv shows in Pakistan.. pic.twitter.com/3Sr7IBl7ns

— Naila Inayat नायला इनायत (@nailainayat) July 4, 2019
Netizens can't hold their laughter and started making a fun of anchor. A user tweeted, "An 'Apple a day keeps brain away."
Know how Twitterati reacted hilariously:
That's why people say an apple a day keeps the doctor away but they don't say psychiatrist away😁😁😁😁

— Prachurjya Barman (@PrachurjyaBarm1) July 4, 2019
Ennu apple khilao

— INDIAN FOOTBALL FANS (@imprasadj) July 4, 2019
Ye Video dekh ke ghutno me dard ho gya. Aapke news wale toh humare desh ke journalists se bhi jyada zehreele nikle. Vo bandi 2 min aur Apple ki baat karti rehti toh uss bande ne toh aise hi emotional heart attack se mar jana tha 😌🙏

— Jagat Joon (@JagatJoon) July 4, 2019
July 4, 2019
Hats off to the man!! What control!! Had I been there would have probably fallen off my seat laughing 😂

— Siddhartha Das (@sidharthone) July 4, 2019
It's the guy who failed to qualify his argument properly! Just apple means a fruit!

— Waqar Shah (@waqarsh) July 4, 2019
What's your reaction after watching the video? Comment on our Facebook page..
Click to read more viral and trending stories here.
Also Read: Believe it or not! Father dies 10 days after eating lizard