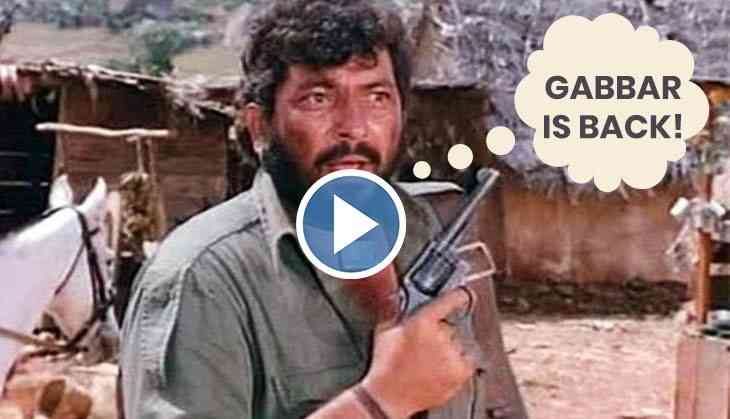 The evergreen film Sholay and its characters are still in the mind of the fans and one can't forget the dialogues that were delivered by its iconic stars like Gabbar, Jai, Veeru, Basanti, and Thakur.
Recently, an advertisement video has surfaced the social media in which the iconic character of Gabbar which was played by Amjad Khan has reminded us 1975 film Sholay. However, it is an old advertisement in which Gabbar can be seen doing the advertisement for Glucose-D biscuit.
The video has made netizens nostalgic as the reminds some old memories of the 90s.
However, this advertisement was aired soon after the release of Sholay film. In the advertisement, Amjad Khan aka Gabbar can be heard asking one of his aide Kalia: "Gaaon se mere liye kya laya re?"
Kaliaa gave him a packet of biscuits but Gabbar didn't happy with it. Gabbar shouted at him and said, " Maine hazaar baar kahaa hai ki mujhe asli cheez chahiye."
Soon after, Kaliaa gave him the packet of Glucose-D biscuits which made him satisfied. Finally he said, "Ab aayega mazaa!"
Interestingly, the tagline of the biscuit was "Gabbar Ki Asli Pasand".
Check out the video that will take you back to your childhood memories:
Have you seen this biscuit ad featuring #Gabbar and team? #AmjadKhan #Sholay #Dharmendra #AmitabhBachchan #JayaBachchan #Hemamalini #SanjeevKumar @aapkadharam @SrBachchan @rgsippy pic.twitter.com/s6bynyog8W

— Bollywoodirect (@Bollywoodirect) September 7, 2019

Check out how netizens reacted after seeing this old advertisement:
Down the memory lane, to my III class days....wow!!

— pawarramachandrarao (@pawarramachand1) September 9, 2019
Good dialog in sholay

— Ma Babu jai hind jai Karnataka (@MaBabu19) September 7, 2019
तबाही एक्शन फिल्म एंड फूल superb

— Praveen Nirmalkar (@PraveenNirmalk1) September 7, 2019
Woow💥 it's magical🔥😍

Thank u for sharing it😊

— Aajurao (@thepkrs007) September 7, 2019
Meanwhile, the video has garnered over 2K views and over 100 likes.
Also Read: Insane! Teacher forced students to wear cardboard on heads during exam; suspended for humiliation